Gwen Stefani Urban Decay Cosmetics Line: No Doubt Singer Will Launch New Line in November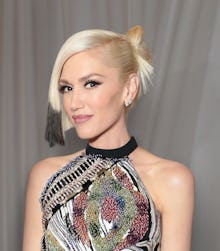 Newport Beach, California-based cosmetics brand Urban Decay has teamed up with Gwen Stefani to create a makeup line that's sure to be as edgy as the singer herself. Style fans: Take a minute to freak out now. 
The cosmetic brand's exclusive line, Urban Decay x Gwen Stefani, is set to hit shelves Nov. 22, PopSugar reports. Aside from the release date, most details about the makeup line are being kept tightly under wraps. 
This will be Urban Decay's first celebrity collaboration, and choosing Stefani is far from random. Wende Zomnir, a founding partner of Urban Decay Cosmetics, told PopSugar she has wanted to work with Stefani ever since she heard No Doubt's anthem "Just a Girl" in 1996, the same year she co-founded Urban Decay. 
"So here's the Gwen story," Zomnir told PopSugar during the official announcement. "I'm living ... on the beach in this shack. Literally a shack. And I remember hearing the song 'I'm Just a Girl,' and she's on the cover of some local music magazine, and I remember thinking, 'That girl's so cool. I wish I could work with that girl someday. She's so rad!'" 
Zomnir told the site she met Stefani a couple of times and that they had "a lot of the same influences in terms of style and beauty."
Judging from Stefani's bold makeup looks — bright red lips, colorful eye shadows and the cat-eye — rest assured any makeup line with Stefani's influence will be far from basic.