Meet Suzy Favor Hamilton, the Olympian Who Traded in Trophies to Become a High-End Escort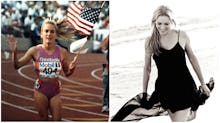 Suzy Favor Hamilton says she was always just a nice girl from Wisconsin. 
Widely celebrated for her athletic pursuits throughout the late 1990s and early 2000s, the nine-time NCAA champion and former Olympic middle-distance runner appeared to be the quintessential example of all-American womanhood. Then she fell on the track during the 2000 Summer Olympics, bringing an abrupt close to her running career.
In the following decade, Hamilton struggled to build a new life without sports. She juggled running a real estate business with her college sweetheart, Mark, with making personal appearances on the former Olympian circuit. After giving birth to her daughter, Hamilton was diagnosed with postpartum depression and prescribed Zoloft, which immediately improved her mood. She felt like she was on top of the world.
Then, just before Christmas 2012, she was outed as a high-end Las Vegas escort.
In her new memoir, Fast Girl: A Life Spent Running From Madness, Hamilton offers her take on what eventually became one of the decade's major sports scandals, detailing her path from the Olympics to becoming Kelly Lundy, a $600-an-hour escort. As she explains in the book, her foray into sex work began after she and her husband hired an escort to celebrate their 20th wedding anniversary with a threesome.
After that first encounter, Hamilton contacted the same escort service and began flying back and forth to Vegas to take clients herself. Her husband knew what she was doing, but wasn't sure how to stop her. Hamilton had been deeply depressed and finally seemed happy; Mark reluctantly condoned her illicit behavior.
As the former track star told Mic during a recent phone interview, at first Hamilton relished having sex for money, saying it made her feel strong and empowered.
"I learned, as Kelly, how to make clients feel like the most important people in the world," Hamilton said. "That was the power you had. You could control these people. ... I was in control. That's where that feeling of empowerment came from."
In reality, Hamilton might not have been as "in control" as she felt. While she was taking on more clients through an escort service, neither Hamilton nor her husband knew that she had bipolar disorder, a brain disorder that causes mania, depression and other extreme shifts in mood, energy and behavior. 
Undiagnosed and unmedicated, Hamilton says her disorder manifested itself in extreme hyper-sexuality, which motivated her to become a sex worker. However, she also believes her foray into escort work was the result of being misdiagnosed with depression.
"I really don't believe I could have been able to go in that direction if I wasn't bipolar and taking the Zoloft," Hamilton said. "It just took away every inhibition. ... I didn't have my normal thinking at all. I didn't have maternal instincts. I didn't have any realization during that time that I was a wife."
Spiraling out of control: In her book, Hamilton claims that Zoloft, an antidepressant that is not prescribed for bipolar disorder, exacerbated her manic behavior, leading her not only to pursue risky sexual behaviors but to spend wildly, go skydiving and all but completely abandon her family. In a comment regarding Hamilton's claims, Pfizer, the makers of Zoloft, asserted that the drug is safe. According to the National Institute for Mental Health, though, antidepressants like fluoxetine and sertraline (the generic term for Zoloft) can increase symptoms of mania in bipolar people when used on their own.
Whether or not Zoloft did indeed contribute to Hamilton's mania, it's true that hyper-sexuality is often a primary symptom of bipolar disorder. So too are "spending large sums of money, and taking drugs and drinking alcohol," as Hamilton describes in her book. Those symptoms can be mitigated with medication but can still be triggered in bipolar patients. 
That's why, Hamilton says, she wouldn't feel comfortable working as an escort now that she's been diagnosed. "I feel that somebody who's bipolar should not be in that job, because your bipolar takes you out of control," she said. "When you're bipolar, you can't be an actress who goes in and have fun. You lose touch with reality and what's safe and not safe."
Dealing with sex work stigma: If there's one thing Hamilton is clear on, though, it's that her story is far from the only story. She maintains that while she believes her disorder might have led her to do things she wouldn't ordinarily have done, there is no causal link between mental illness and becoming a sex worker. Nor do sex workers deserve to be stigmatized and treated like they're inferior to other women. 
"I know there are women who do this totally by choice because they really enjoy it," Hamilton told Mic, taking issue with the idea that sex workers are exploited or victimized by men. "Maybe they just have two clients that they see and they fly into Vegas once a month. There are professionals who do this just because they enjoy it." 
She was quick to add, however, that not every sex worker gets to make a choice, as she did, to enter the industry. "It's different than the woman who is being pimped out or is forced to do this," Hamilton said. "Things need to be done to help women who need help, and to get out the women who want to get out. Many women want to stay in the industry, but the safety net isn't there for them."
"Shame can be deadly." No matter the reason a woman might become a sex worker, facing unrelenting stigma is inevitably part of the job description. In Hamilton's experience, the stigma was pervasive enough to result in the loss of endorsement deals and a media circus after the world learned of her double life as Kelly. She also believes it was what motivated a tabloid reporter to blow her cover in the first place. 
"William Bastone [the Smoking Gun reporter] thought I was the worst person in the world for being an escort," Hamilton said. "It's like I wasn't a human being at all. I was disposable [to him], which a lot of people think about escorts or sex workers. They think they're disposable." 
The shame that comes with that dehumanization is why, Hamilton says, she was driven to write her memoir in the first place. 
"Shame can be deadly," she said. "It can kill somebody by always making them feel that they're so bad. It can lead to suicide. It can lead to so many things. I put shame upon myself, and by society when the story came out." 
Although her time as an escort may be over, Hamilton says she refuses to take on the humiliation society wants her to feel. She also refuses to shame other sex workers, current or former — many of whom she considers friends. 
"To put judgment on other sex workers — I can't, and I won't," Hamilton said. "It's their choice, and I always feel that what a woman wants to do with her body, she has every right to do and make that decision."