Apple Censored an App About the Ferguson Shooting — Here's Why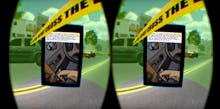 Ferguson Firsthand is a virtual reality app that transports you to the scene of the fatal and tragic shooting of Michael Brown. It does what great journalism does — surfaces and presents a diverse, muddled collection of perspectives — then takes you viscerally to the scene and challenges your previously held perspective.
But two weeks ago, Dan Archer, a reporter with Empathetic Media who helped build the app, got a call from Apple saying they had rejected Ferguson Firsthand from the App Store.
Archer was told that an app "targeted at a specific event is not appropriate," a criteria that's not in Apple's submission guidelines. He tried to discern what exactly the problem was if he didn't violate Apple's guidelines and was told, in what he described to Mic as "cyclical legalese," that he should feel free to resubmit the app in the future.
Virtual reality journalism often wants to produce stories that, as Archer puts it, "don't fit perfectly into the beautifully crystalline, polished Apple utopia they envision."
Archer suspects the reason has more to do with how they recently censored educational apps for containing the Confederate Flag: They don't want the fuss of potential controversy. It's a troubling trend for a company trying to build a news app for original journalism.
"Maybe they're made uncomfortable by the glaring truths it exposes, the way some media outlets reacted," Archer told Mic. "But my suspicion is that they haven't engaged with it very deeply."
Troubling start. This a bad beginning for Apple's foray into journalism. Apple, Facebook, Snapchat and other platforms are building places for news organizations to house their articles and reporting — a shelter from the war against advertising that promises a better, more profitable alternative to maintaining your own site.
When a news organization has its own site, they can decide what goes on it and what doesn't. But what if the New York Times was counting on Apple to get out a story or experience like Empathetic Media's? Turning Ferguson Firsthand away from the App Store isn't just Apple rejecting an app: It's an act of journalistic censorship.
A news organization's product is news and information. They sell accountability, not iPhones.
"It's like submitting a 5,000 word piece to an editor and them saying, 'It's too specific,'" Archer told Mic. "It's a bizarre piece of feedback."
These are the kinds of decisions that news organizations with codes of ethics tend to make, then employ ombudsman and editorial staff to deal with complaints out in the open. Their product, ideally, is news and information. They sell accountability, not iPhones.
Virtual reality could give us so much more than gaming. So far, the mainstream excitement for VR has been for video games, social interaction and immersive porn.
"It's safe and escapist," Archer told Mic. "You can play around, float around in space, destroy things — mostly just things that are untethered to reality."
But VR has the journalistic potential to take users thousands of miles to visit people they might never meet or have experiences they might never have without transporting their senses to that place, beyond the arresting photographs and man-on-the-street videos.
Journalists and interactive designers have created projects that put you in the shoes of a Syrian refugee or someone in detention at Guantanamo Bay. Stories that, as Archer puts it, "don't fit perfectly into the beautifully crystalline, polished Apple utopia they envision."
However, these options could be discouraged early on if the barrier of entry is too high for early innovators experimenting with VR in ways that strict censors might consider unsavory. It's wearying for app developers to constantly go through the red tape of applying to the App Store, especially for developers who don't have the excess capital or time. Nevertheless, Empathic Media is appealing Apple's decision.
"If we won't attract diverse, broad news coverage, it'll just stay this homogenized, escapist fantasy space," Archer told Mic.
If they're going to run a major news platform, Archer hopes that Apple will at least develop clear guidelines and a transparent approval process. Even so, he isn't hopeful that Apple's ambition to build a fair news platform will be enough to ensure he makes it in.
"Apple's actions speak louder than any guideline or any press release," Archer said.
We have reached out to Apple and are waiting for further comment.