This Woman is Proudly Baring Her Mastectomy Scars on Facebook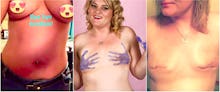 When doctors told Scottish woman Amanda Stewart that her best bet to combat her family's history of breast cancer was to get a double mastectomy, she looked to the Internet for photos and stories of women who had been through the experience before.
"I couldn't find any preventative post-surgery photos or stories in the lead up to my operation, only post-cancer ones and they were all very somber and sad," the 33-year-old mother of two told the Independent. So she decided to document her journey herself on a Facebook page named "Cancer, You Lose."
She gave followers a pre-op snapshot back in August:
 Then she shared her post-surgery results earlier this month:
A fight to reclaim her body: Although Stewart had not yet been diagnosed with breast cancer, she said that she opted to undergo a preventative mastectomy after doctors told her and four of her family members that having the procedure would reduce their risk of developing breast cancer. Both Stewart's mother and two of her aunts had breast cancer, leading doctors to conclude that she had a 97% chance of developing it later in life.
Preventative mastectomies are on the rise, largely among women who possess the BRCA1 and BRCA2 genes, which put women at increased risk for breast cancer. According to statistics from the Journal of Clinical Oncology, the rates of contralateral prophylactic mastectomy (i.e., when both breasts are removed) more than doubled between 1998 and 2003. 
A 2013 New York Times op-ed by Angelina Jolie explaining why she chose to have a preventative mastectomy also contributed to a rise in women opting for the procedure. There's some debate in the medical community, however, over how necessary it is: A 2014 study in the Journal of American Medicine determined that as many as 70% of women who get prophylactic mastectomies don't actually need them, as they're actually at low risk of developing breast cancer. 
Battling Facebook's boob ban: Stewart is not the first woman to use Facebook to share her mastectomy story in an effort to inspire other survivors. Earlier this year, another Scottish woman named Leeanne Curry shared her story on the social media site. She also uploaded a number of post-surgery pictures in response to the #HoldACokeWithYourBoobsChallenge, a hashtag trend in which women posed with Coke bottles between their breasts to ostensibly raise awareness of breast cancer.
"'Last time I looked cancer is not a game," she wrote to her followers, according to the Daily Mail. "Cancer patients do not care if you can put a Coke can between your tits or how many tattoos too have, what color your bra is or where you leave your f****** handbag."
Unfortunately, Facebook hasn't always welcomed post-mastectomy photos. In October 2013, North Carolina woman Ann Marie Giannino-Otis posted her photos to the site, only to have them deemed inappropriate and removed from the website. So she launched a petition to convince Facebook to put the images back up. 
More than 500,000 signatures later, Facebook finally relented. "Until you can see what's behind breast cancer you don't understand it," Giannino-Otis told CBS. "If you can't understand it then how can you help someone heal." 
Following backlash, in 2014 Facebook officially changed its anti-nudity policy to allow breastfeeding and post-mastectomy photos. "We agree that undergoing a mastectomy is a life-changing experience and that sharing photos can help raise awareness about breast cancer and support the men and women facing a diagnosis, undergoing treatment or living with the scars of cancer," the website said in its content guidelines. 
Stewart is hoping her photos will help more women understand what it's like to have a preventative mastectomy and raise awareness of the procedure. 
As she told the Independent, "I wanted to share my scars in a positive way."
h/t The Independent