Donald Trump's #AskTrump: Joe Flacco Is an Elite QB and Other Responses From Twitter AMA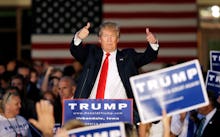 It's no secret that New York real estate magnate Donald Trump is obsessed with Twitter. When the presidential hopeful announced he'd participate in a live Twitter Q&A from the company's New York City headquarters on Monday, the hashtag #AskTrump blew up on social media.
During the AMA event, Trump addressed questions on important topics like gun control, student debt, jobs and whether or not Joe Flacco of the Baltimore Ravens is an elite quarterback. He also said he would forgo the presidential salary if elected.
Here are some of the presidential hopeful's #AskTrump responses: