Meet the Winners of the World's First Sugar Baby Beauty Contest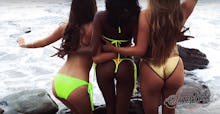 Cat, 20, was finishing her degree at hairdressing school when she heard about the sugar dating website Seeking Arrangement. In the weeks that followed, she received approximately 400 messages from prospective sugar "daddies," or older men seeking companionship with young sugar babies like herself. 
Almost immediately, the men on the site offered "to take me out and get to know me and fly me places. Or they'll name a price and message me out of the blue and ask if I wanna sleep with them," Cat, who lives in Bloomington, Ind., told Mic.  
Cat is not a sugar baby in the technical sense: she has a boyfriend, and has not actually met any of the sugar daddies on the website. But when Seeking Arrangement announced its first swimsuit calendar featuring its sugar babies, she decided to sign up to further her modeling career. On Sept. 18, she won the title of Sugar Baby of the Year, as well as a grand prize of $2000. 
"My father just passed away," she told Mic. "So I'm going to use the money to help pay for his cremation."
Sugar babies and their daddies: Seeking Arrangement is a website that facilitates sugar dating, which is usually defined as the act of explicitly exchanging goods and/or cash for companionship and often (but not always) sex. While sugar dating has historically been something of an unspoken arrangement, thanks to the rise of the Internet the practice has become more visible, which means an increasing number of women are signing up for the site.
"Occurrences in the economy and education usually affect enrollment growth significantly," Angela Bermudo, a spokeswoman for Seeking Arrangement, told Mic. "Since 2009, the number of students using the site [has grown] 12 times from what it was that year."
Sites like Seeking Arrangement have prompted a slew of pearl-clutching thinkpieces and 20/20 segments warning parents that their daughters are eschewing $8/hr work-study jobs to shack up with wealthy older men. The latest entry in this subgenre is a GQ story by Taffy Brodesser-Akner on the "bold new transactional-love economy," which polled sugar babies and Daddies from SeekingArrangement about their experiences. 
In the piece, which quickly came under fire as exemplary of the double standard against women in sex work, Brodesser-Ackner concluded that sugar dating wasn't a consensual arrangement, but rather a scam that exploited young women. "These girls think they're getting what they want," she wrote. "But you can't get what you want in this world without a scam, without thinking you are the grifter and not the mark."
When Mic spoke to the sugar babies in the competition, however, they said the website was far from exploitative. Rather, they saw their presence on Seeking Arrangement as a way to help them further their career goals, while simultaneously providing mutually satisfying companionship for older men.
Money and mentorship: Melissa, 25, a.k.a. Miss July, has been sugar dating for about a year. She came to it after her grandmother saw it on a talk show and suggest she sign up. "She's a really cool and open-minded lady," Melissa told Mic. "So I was like, 'OK, Grandma."" 
Melissa told Mic that while she hasn't gone on many dates, sugar dating has helped her establish a career in the real estate business. After meeting a Sugar Daddy who worked in real estate, she became interested in the field, and with his encouragement she's taking state exams and has an apprenticeship with him.
Jenna (Miss March), a 20-year-old speech pathology student, said she's also found business opportunities through men she's met on the website. "I've had a lot of opportunities to do internships when I graduate from college, and that's awesome, networking and being able to get myself out into the job market." Being on the site has also helped her pay for her tuition. 
"It's not all about the money and the shopping and gifts and whatnot," Jenna told Mic. "There's a friendship aspect to it as well."
The question at the heart of sugar dating:  Before Brodesser-Akner's piece was published, writer Alana Massey penned an open letter to young sugar babies, which argued that sugar dating is essentially a form of sexual labor: "I wish neither to diminish nor elevate the particular experiences of sugar babies," she wrote in her piece. "I only ask that [daddies] always recognize sugar baby labor as such and value it accordingly." 
Massey went further, arguing that the most successful sugar babies "are not fresh-faced college girls but seasoned veterans of the sex trades who know just how much emotional labor the sugar daddy will require and can charge accordingly." 
But for the most part, the women of sugar dating don't call it sex work. People who do view sugar dating as such "don't understand the nature of it," Jenna told Mic. Rather, she says, sugar dating feels more like a more innocuous form of friendship or companionship. "I definitely don't feel it's something that I need to hide," she said. "I don't feel ashamed of anything I'm doing."
The same goes for Melissa. "I haven't been intimate with any of these men, I've just used it for business or for friendship and companionship that way," she says. 
Chauntelle Tibbals, a sociologist and the author of new book Exposure: A Sociologist Explores Sex, Society, and Adult Entertainment, said one reason these women may not identify as sex workers is because of the stigma attached to it. "We as a culture continue to shame and marginalize sex workers at every turn," she told Mic. 
But it also has to do with the fact that sugar dating occupies a "grey area" between dating and commerce. "It could be that some women are focusing on the emotional labor involved in the relationship or that there is no sex involved in the exchange," she told Mic. "Not every sugar dating scenario involves sex."
If in the sharing economy every hour is a billable one, sugar dating then becomes a sort of two-in-one. It's a job, but it's also dating; it's socializing, but with an extra monetary incentive. It's a relationship that doesn't take time or energy away from getting paid. It's part of the hustle.
The multiple truths of sugar dating. But the debate over whether sugar dating qualifies as sex work is far less interesting than the question of what the rise of sugar dating says about our culture — or whether it'll have any influence on more mainstream dating trends. 
Jenna says it will. "I believe in the next 10 to 20 years it is going to become a social norm," she told Mic. 
Tibbals thinks that it could — but only if some major cultural shifts take place. "As more and more women and men are willing to publicly declare their desire for such a relationship (via posting said desire on a website), more and more people have the opportunity to get up in arms [about it]," she told Mic. "This results in repudiation and moralizing. 'Those poor young women!' 'Those slutty young vixens!'"
That form of slut-shaming might stem at least in part from the fact that there are aspects of sugar dating that, while consensual on websites like Seeking Arrangement, mirror non-consensual situations elsewhere. There have been women who have felt pressured to "give it up" after being treated to dinner, just as there are men who feel "entitled" to sex if they buy a woman jewelry. In sugar dating, however, these pressures and expectations are consensually agreed upon beforehand — ideally, before a relationship even begins. 
"I think it's definitely important to set that expectation on the first or second date, to just lay down what you're comfortable with and what your expectations are, and for them to lay out what their expectations are as well, so there isn't any confusion there," Jenna told Mic. "There really should be no blurred lines as far as that goes."
But what is perhaps most subversive about sugar dating is how closely it mirrors tropes that are hidden, if not explicitly discussed, in the mainstream dating world. In its purest form, sugar dating is a mutually beneficial arrangement: She gets money, he gets sex or some form of emotional intimacy. On Seeking Arrangement, both parties' motivations for being in a relationship are laid bare, in a way they wouldn't be in the IRL dating world. 
In some ways, this type of mutual honesty about what's to be expected from a relationship is refreshing. "There is a lot of space to minimize manipulations and cut to the chase in a sugar relationship," Tibbals told Mic. "Ideally, both people know what they're getting involved in."
But it also tends to rankle a lot of people — especially because sex and money, two of the biggest taboos in our culture, are both involved. We believe relationships should be free of such sordid context. We don't think genuine friendships or partnerships are based on such cynical arrangements as sex for money, or money for sex. We're supposed to get nothing out of our lovers besides emotional support and emotional support is supposed to be free. If nothing else, sugar dating proves this idea dead wrong.
Ultimately, though, sugar dating is just another relationship, with its own set of arrangements, expectations, and labor, whether it's emotional or sexual. It's up to women like Cat, Melissa and Jenna to define what that relationship is — and they're making bank in the process. 
Sept. 23, 2015, 11:00 a.m.: This story has been updated.