Throwing Good Shade Is Somehow More Important Than Making Good Records in 2015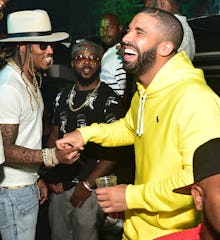 Drake and Future plunged the music world into hysterics when they dropped their rumored collaborative mixtape What a Time to Be Alive on Sunday. Fans dug in to listen, capturing their feels with a glorious display of memes.
Unfortunately, when audiences woke up Monday to talk about the album, the stories getting the most play were those that had nothing to do with the music. "Did Future Diss Meek Mill on 'Big Rings?'" Hot New Hip-hop asked. Uproxx explained how everyone thinks "'Diamonds Dancing' verse is about Nicki Minaj." Billboard rounded up all the album's "beefiest verses" in their only post on the album, outside of a link to the stream. VH1 claimed Twitter's reactions to the beef are "giving us life."
There were far more pieces dissecting the artists' various beefs than there pieces discussing the album's actual merits, which are legion. What a Time to Be Alive is 2015's Watch the Throne; some projections reveal it might even might even outsell WTT at the end of its first week. The reason guiding this is that in 2015, beef sells. Drake and Future are far from the only ones profiting.
Where's the beef? High-quality beef has proven to be a more reliable guarantee of grabbing headlines and reaching new fans than a high-quality record. Beef has laid at the core of almost every major storyline in music in recent memory. It only seems to be getting worse.
A particularly noteworthy example popped up in July with Miguel. His darkly sensual Wildheart, released in June, offered a textbook example how to carve new pathways through a genre as well-worn and established as R&B. However, it wasn't until he got an opportunity to take a shot at Frank Ocean in an interview with the Sunday Times that his album actually started getting widespread attention.
The Guardian explained this uncomfortable reality writing that "most recent major artists have had to engage in controversies surrounding comparisons as a means of keeping themselves in the press and on top." 
"Although manufactured rivalries might spark greater visibility among the public, they often distract from the music itself," the Guardian added.
More often than not, these feuds make the music irrelevant altogether.
The Twitter feud has become its own art form, and it seems necessary for artists to master. Drake proved his mastery in August after Meek Mill accused him of using a ghost writer. The two exchanged diss tracks, and most of hip-hop named Drake the winner. However, neither had tracks anywhere close to the quality and replay value of Nas' "Ether" or Jay Z's "Takedown." The tipping point that made it easier to declare a winner came from Drake's epic PowerPoint presentation of Meek Mill shade memes that he played during his set at OVO Festival in Toronto.
It was a eye-opening look at what rap beef looks like in 2015.
"It was a summer of rap beef with no protein. A scold and a superstar lobbed a few water-balloons at each other," the Washington Post wrote. "As a digital blabfest, it was all-consuming. As actual music, quarts of milk have lasted longer."
Yet this half-assed beef ended up bringing out a ton of love for its participants. The buzz it caused ratcheted up Drake's album sales 12% over previous non-beef weeks, according to Billboard. Meek Mill's numbers, on the other hand, dropped during those same intervals. It pays to master the shade.
The MTV Video Music Shade Awards: The MTV VMAs have never been a paragon of musical excellence. This year, however, they were little more than a curated mess of personal affronts and subsequent resolution. 
The award show curated two perfect moments of shade-related reconciliation. They reunited Taylor Swift and Nicki Minaj, following their confused spat following Minaj's "Anaconda" snub, and Taylor Swift and Kanye West, after the infamous "I'ma let you finish moment" at the 2009 VMAs. Minaj also let loose her own shots at Miley Cyrus, following comments she made earlier in the week during an interview with the New York Times. 
The VMA organizers insisted that latter moment wasn't scripted, but in an award show otherwise preoccupied with pitting entertainers against each other and then resolving their differences, it hardly mattered who planned it. Their priorities were clear. West called out this absurdity for what it was in his lengthy speech after he received his Vanguard award for excellence in music.
"You know how many times MTV ran that footage again, because it got them more ratings? You know how many times they announced Taylor was going to give me the award? Because it got them more ratings?" he said, before trying to refocus the audience on the power of ideas. 
This is the musical landscape of 2015: beef factories and shade trees as far as the eye can see. Obviously, making a decent record is still important in getting audiences interested in one's voice in the first place. Once one's celebrity is established, however, it's far easier to snag new press and fans with a feud than it is with a hot record. It's even easier to spin out an awful record accompanied by good shade and have it travel miles. 
That's likely why we're currently seeing artists like Demi Lovato and Avril Lavigne trying to spark up beefs with any celebrity that will bite. Craft some few good records on the side, as Drake just did with Future, and one will find themselves at the absolute pinnacle of their genre in no time.