17-Year-Old Syrian Refugee Traveled More Than 300 Miles With Pet Dog, Rose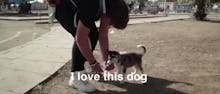 Aslan, a 17-year-old Syrian refugee, fled Damascus for Europe, and took with him an unlikely travel companion: his puppy, Rose. The teenager refused to leave home without her, according to a video recorded by the United Nations High Commissioner for Refugees and published by the Guardian.
UNHCR interviewed Aslan not long after he arrived on Greece's Isle of Lesbos along with thousands of other refugees over the weekend.
The young man walked more than 300 miles during his voyage from Syria to Greece, carrying Rose in a carrier along the way. Aslan arranged for Rose to have a pet passport so they could cross borders together. He shares the food and water he obtains with her, making sure she always has what she needs.
In his travels, the refugee says, he has been asked repeatedly about Rose: "Some people ask, 'You have only a small bag? And you bring your dog? Why?'"
"I love my dog. I say, 'I love my dog,'" Aslan tells UNHCR. Obviously. 
Lesbos has been the entry point for more than 50% of the refugees fleeing their war-torn countries and seeking refuge in Europe. The small island is completely overwhelmed with refugees, and a slow registration process has created a bottleneck, leaving tens of thousands of refugees stuck on the island. Tensions and frustration have subsequently been percolating, resulting in small riots and altercations, according to the International Rescue Committee. 
"In less than a week, the IRC and other partners supported local authorities in moving 29,000 people through an expedited registration process," the organization reported Monday. "Ferries operated 24 hours a day in order for refugees to transit off the island quickly and efficiently." 
Aslan is not the only refugee to travel with his pet, the Independent notes.