Here's How Bernie Sanders Is Planning to Win South Carolina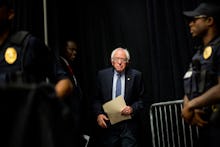 Running neck-and-neck with Hillary Clinton in Iowa and New Hampshire, Sen. Bernie Sanders (I-Vt.) is beginning to plot a path to victory in the more diverse and demographically challenging South Carolina, home to the first Democratic primary contest below the Mason-Dixon Line.
Sanders has emerged as Clinton's most formidable national competition by consolidating mostly white progressives and successfully translating their boundless energy into action on the ground and online, where the campaign has crowdsourced voter outreach and organizational work normally managed exclusively by paid operatives.
The focus is now expanding to include less naturally cozy venues. A new wave of hires is coming in South Carolina, where the current crop of 15 staffers has only recently gotten to work courting local church and political leaders. Christale Spain, a former deputy executive director for the South Carolina Democratic Party and an early organizer for then-Sen. Barack Obama in 2008, recently joined the campaign, adding a rare and necessary dose of establishment clout.  
Take him to church: Sanders, who has visited the Palmetto State three times since announcing his candidacy in April, is beginning to chart more savvy itineraries, according to state director Chris Covert. He held a small Sept. 12 rally at Benedict College, the historic black institution, and the campaign, Covert said, is poised to launch a new "faith-based initiative" in the coming weeks. 
"It hasn't just been about the large crowds," Covert told Mic on Monday. "It's been about the smaller meetings we've been having, building relationships with leaders and people in the community."
This quieter approach represents a significant departure for a campaign that built out a national reputation, and broadened its surprisingly large fundraising base with a series of summer mega-rallies, drawing tens of thousands of supporters to packed arenas from Los Angeles to Madison, Wisconsin. In South Carolina, though, Sanders won't be preaching to the choir.
Instead, officials in South Carolina say, he'll need to sit, listen and hope they'll chat with him after services. 
"This about recognizing [the church] is a core organization within any African-American community when communication at large is desired," State Rep. Joe Neal (D) told Mic. Neal is an influential character in Columbia who made national headlines during the fight to remove the Confederate battle flag from the statehouse grounds earlier this summer.
Sanders and Neal have met on a number of occasions and enjoy a "great relationship," Covert said, but Neal will wait to make an endorsement. 
"If [Sanders] is going to engage that community, then he has to start where the communication lines run," said the lawmaker from Richland. "They run through the churches, that means that the ministers play a tremendous role in communicating about all things. Right now, a lot of them don't know who he is, so he needs to find a way around that and introduce himself."
Robert Greene II, a political scholar and doctoral candidate at the University of South Carolina, also believes Sanders' most viable route would take him through the pews of the politically powerful religious community.
"The black church, to this day, still serves as an important political public space for African-Americans," Greene told Mic. "At the least, Sanders has to find a way to insert himself in that space and make himself look like a viable candidate, because if you look at most of the issues he's most passionate about, namely economic inequality, these are issues that are brought up all the time in the church.
"So I think he can do this, but it's going to take some time for him to make some inroads into the African-American church. Once he does that," Greene said, "I think you're going to see the polling shift later this fall and winter."
Whether Sanders can appeal to churchgoers in South Carolina is an open question, but he has already displayed a facility with religious language. In his address last week to students and faculty at Liberty University, the Evangelical school founded by Rev. Jerry Falwell, he weaved Bible verse into a version of his usual pitch with impressive fluency. The black church will ask different questions from the Liberty crowd, but speaking the same language is an important first step.
Democratic doubt: Joe Trippi, the Democratic Party gadfly and campaign chief who spearheaded former Vermont Gov. Howard Dean's brief but consequential 2004 primary bid, is less optimistic.
Dean's early adoption of tech-driven voter outreach and fundraising would take him from insurgent outsider to Democratic National Committee chairman by 2005. But in the summer of 2003, Dean, with Trippi as his campaign manager, looked a lot more like Sanders, firing up the party's liberal base and storming to surprise leads in the early state polls. (Dean is backing Clinton in 2016 and will attend a rally for her in South Carolina later this week.)
"In 2016, what we know right now is we're gonna get through Iowa and New Hampshire, and they're gonna winnow the field down to Clinton and Sanders," Trippi told Mic. "Then we're gonna go to the other 48 places, of which Vermont, Minnesota and Idaho look really good for Bernie."
Trippi is a believer in the Clinton "firewall" — a collection of Southern states in which the campaign has built advanced field operations designed not only to win, but to snuff out any momentum a challenger, like Sanders, might build in the early voting.
"I think he's saying a lot of the right thing, but it's clearly not igniting a fire [down South]," Trippi said. "When he goes to meet the Congressional Black Caucus, does anybody come out and support him? It's not that he's not doing the right things, it's just that so far you can't point to any kind of win."
Indeed, Clinton begins with an overwhelming advantage on the ground, among the political class and with voters who have given her an early 23-point lead (which jumps to 48 points with black voters), according to a recent CBS News/YouGov poll. The campaign said in an email it has already held more than 500 "grassroots events" across the state, making their case to voters since the beginning in April "at their homes, communities, work and places of worship."
One campaign official noted Clinton's relative strength in South Carolina, compared to other Southern states, even when falling to Obama in 2008. She lost the black vote there by 59 points, which isn't terribly impressive until one considers that in Kentucky, Mississippi and Georgia the average deficit was more than 81.
A late push: The Sanders campaign, meanwhile, is asking for patience. 
Unlike the Clinton operation, which brags about having been on the ground in South Carolina for months, the Sanders team is going on faith, confident it can making converts out of voters who have yet to be exposed to the candidate or his core economic message.
"I think that a lot of people assume, 'Well, Hillary has great relationship down here,' and I understand that, I fully understand that the Clintons have been coming down here and campaigning for many, many years," Covert said.
"But the senator has an outstanding record of standing up for working class families, and the more that we can communicate with people, build relationships with people — people are going to know a lot about Bernie Sanders by the time this thing is over."