President Obama Highlights the Difference Between Police Reform and "War on Cops"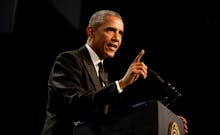 President Barack Obama underscored the difference between police reform and the so-called war on cops during his address to the Congressional Black Caucus on Saturday, proposing that our country doesn't have to choose between respecting police officers and ensuring fairness and safety in the justice system.
"I just want to repeat, because somehow this never gets on the TV: There is no contradiction between us caring about our law enforcement officers and also making sure that our laws are applied fairly," Obama told attendees, according to a White House transcript. "We want to protect our police officers. We'll do a better job doing it if our communities can feel confident that they are being treated fairly. I hope I'm making that clear."
He also pointed out that although social media has brought it to the forefront recently, police brutality is not a new problem. "It's just that in recent months and in recent years suddenly folks have videos and body cameras and social media, so it's opened our eyes to these incidents," he said. 
The president told the caucus he's trying to implement legislation from his Task Force on 21st Century Policing that could improve the safety of police officers. Obama said he wanted to make himself clear, as his goal to keep police safe "never shows up on Fox News."
His comment follows criticism from Fox News blaming a "war on cops" for supposed spikes in crime. Todd Starnes, a radio host on Fox News, recently said the Ferguson protestors "got what they wanted" when two officers were ambushed during protests. 
Earlier this month, a story on Investor's Business Daily blamed "less-aggressive policing" and a "war on cops" for a "nationwide spike in murder."
According to data from the Officer Down Memorial Page, however, 2015 is on track to be the safest year ever for police officers — even better than 2013, when 0.01% of police officers died from work-related injuries.