Serena Williams' Pirelli Calendar Appearance Sends an Awesome Message About Beauty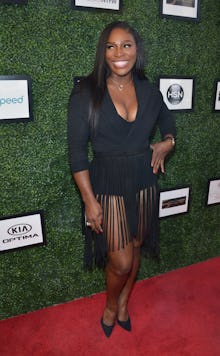 Serena Williams just went and changed the game again.
According to a tweet from the tennis star on Friday, she will be photographed by Annie Leibovitz for this year's Pirelli Calendar— aka the fashion industry's annual ode to the beauty of model bodies.
Naked models on parade: The Pirelli Calendar is a niche project created by an Italian tire company and not available for purchase. Instead, it's simply "sent to a secret list of high-rollers and international public figures," reports the Guardian. 
But the Cal, as it's known, has somehow become one of the fashion industry's biggest productions, attracting every top model (Kate Moss, Naomi Campbell, Gisele Bündchen, Heidi Klum) and top photographer (Steven Meisel, Patrick Demarchelier, Mario Testino, Herb Ritts) in the industry. 
The calendar's most notable feature: Almost every year since the Cal's debut in 1964, the models have been photographed nearly naked or totally stark naked.
From Kate Moss' smooth curves to Miranda Kerr's perky chest, five decades of exposed models' limbs have acted to reaffirm a collective beauty standard. Stunning as the photos are, the Pirelli Calendar has long been an ode to fashion's female ideal: tall, delicate and impossibly slender, not to mention white. 
A new, diverse set of bodies: Last year, the calendar included its second-ever "plus-size" model, the beautiful Candice Huffine. Now, Serena Williams will be featured in the calendar's pages. (Mic reached out to a rep for Pirelli who could only state, "We will soon have details ready to share on the 2016 Pirelli Calendar later this week.") 
Williams, famously, embodies a different beauty ideal. She's strong and muscular, nothing like the lanky bodies typically seen lounging over rocks and greenery in Pirelli photos. She's had to "contend with critiques of [her] body that perpetuate racist notions that black women are hypermasculine and unattractive," as the New York Times Magazine put it, as well as accusations that her body is inherently "unfeminine."
Now, Williams will be photographed by one of fashion's most famous photographers alongside some of the world's top models. 
As for how Williams landed a spot in the Cal this year, Leibovitz might have had something to do with it. The photographer worked with Williams for her recent Vogue cover, and both Leibovitz and Williams are favorites of Vogue editor-in-chief Anna Wintour. 
That cover made Williams the first black female athlete to land a solo cover of Vogue. She will also be the first black female athlete in the Pirelli Calendar — not a moment too soon.
h/t Harper's Bazaar