Yeezy Boost 750: Here's What We Know About Kanye West's Latest Adidas Collaboration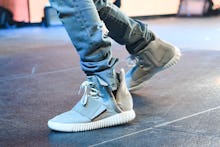 Yeezy season is fast approaching. Ever since dropping the first series of Yeezy Boosts with Adidas Originals in February, Kanye West has been teasing fans with surprise looks at the next line of Yeezy Boost 750s. 
West has been stepping out wearing the upcoming edition of Yeezy Boost 750s, while his wife Kim Kardashian-West has been teasing women's wear from the next series of his clothing line, Yeezy Season 2. 
West unveiled the original high-top shoe with Yeezy's signature fold-over and soft-cloth look at the 2015 Grammys, when West wore a light-gray prototype of the sneakers. The Yeezy Boost 750s appeared during the rapper's spring and summer 2016 collections at New York Fashion Week, however neither West nor Adidas Originals have confirmed when fans will be able to actually purchase the kicks in stores. 
The high-tops will come in several varieties, including black, gray, plum, brown and possibly more. The "All Day" rapper hosted a private unveiling in February for the new Yeezy Boost 750s, which attracted fellow performers including Rihanna, Future and Big Sean. 
The new line of Yeezy Boosts use the Adidas Originals classic padding on the sole of the shoe with small, circular openings at the top that accentuate the style while providing space for air to move through the shoes.