Halsey "New Americana" Lyrics: Hot New Artist Drops The Biggest New Anthem of 2015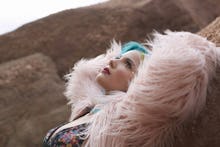 Halsey is the moniker of breakout musician Ashley Nicolette Frangipane, a 20-year-old pop prodigy who's rising fast and already garnering comparisons to dynamo electro pop acts like Lana Del Rey and Lorde. 
A New Jersey native turned New Yorker, Halsey's angling to be the voice of an emerging genre defined by its audience. "New Americana," which was released with her latest LP Badlands in August, perfectly captures both Halsey's sound and her mantra, and it is the rising musician's most ground-shaking track to date, MTV reports. A showstopper of a track, "New Americana" could quickly solidify this artist's place in the post-ought annals. 
"We are the New Americana/ High on legal marijuana/ Raised on Biggie and Nirvana/ We are the New Americana," sings Halsey on "New Americana," a slow-burning ballad that hovers somewhere between electronica and pop. For the full lyrics, head to MetroLryics.
Halsey's work departs from traditional associations with Americana. Instead, Halsey uses the term to categorize herself, her fans and a generation that grew up on progression. 
"It's this idea of these kids who are part of a generation where pop culture is so heavily influential that diversity doesn't scare them the way it scared our parents and their parents," Halsey told MTV. "We're more accepting of different walks of life. So I think the New Americana is racially ambiguous, people who are proud of their culture and they own it, possibly not from a binary of gender."
Halsey's first single "Ghost" surfaced in August 2014. The standout track earned the young musician a record deal with electronic and dance label Astralwerks, whose parent company is Capitol Records. Halsey's debut EP, Room 93, was released on iTunes in April. 
In August,  Halsey released her first full-length LP, Badlands, which features production work from big name acts, among them Lido, the Futuristics and Son Lux. For tour dates and more on this unstoppable act, head to Halsey's homepage.