Martin Shkreli Hiked the Price of Daraprim 5,000%, Now Twitter Is Trolling Hard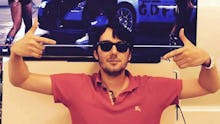 On Monday, Martin Shkreli made headlines after news broke that his company, Turing Pharmaceuticals, had hiked the price of Daraprim, a 62-year-old drug used to treat the parasite toxoplasmosis and that can be life-saving for AIDS patients, from $13.50 to $750 per pill. As the news spread, many attacked Shkreli and Turing, prompting the biotech CEO to open up about about his decision to raise the price by more than 5,000%.
Speaking to Bloomberg Markets, Shkreli, a former hedge fund manager, defended the decision, saying the matter was about simple dollars and cents. "This drug was doing $5 million in revenue, and I don't think you could find a drug company on this planet that could make money on $5 million of revenue," he told Bloomberg Markets. "Most costs are much higher than that." 
Daraprim costs "very little" to make; the host of Bloomberg Markets estimated that it was about $1.
Additionally, years before anyone even heard of the Daraprim price hike, Shkreli found himself at the center of another controversy. In 2013 as the CEO of biopharmaceutical company Retrophin, Shkreli was engaged in a harassment suit against employee Timothy Pierotti who claimed, in a sworn affidavit to New York's State Supreme Court, that Shkreli and Retrophin hacked into his various online accounts and sent a letter to Pierotti's wife saying, "I hope to see you and your four children homeless and will do whatever I can to assure this." 
The response online was unsympathetic to the company's purported money woes, with many zeroing in personally on Shkreli as the ex-hedge-fund-bro personification of evil.
It's not the first time a lifesaving drug has faced sudden and massive price hikes. On Monday, CBC News reported a 2,000% increase for the price of tcycloserine, a first-line medication used to treat deadly multidrug-resistant tuberculosis. 
The Daraprim hike sparked immediate action from the political class as well, with both leading U.S. Democratic presidential candidates weighing in on the discussion. Sen. Bernie Sanders (I-Vt.) and Rep. Elijah Cummings (D-Md.) penned an open letter to Shkreli announcing a formal investigation into the price hike.  
In a tweet, meanwhile, former Secretary of State Hillary Clinton promised policies to address what she openly called "price gouging." 
Shortly after her tweet, NASDAQ biotechnology stocks sank sank 4.5%.
Sept. 22, 2015 12:24 p.m.: This post has been updated.