Fayetteville North Carolina Police Throw Out 333 Rape Kits to Make Room for Other Evidence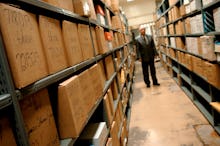 Recently publicized results from a June audit at the Fayetteville Police Department in North Carolina reveal 333 rape kits were destroyed from 1995 to 2008 in order to make space for new evidence. 
"What we found was that a decision was made in 2006. The evidence vault was full and a decision was made to destroy the kits," Fayetteville Police Chief Harold Medlock said during a press conference on Monday.
In February, the commander of FPD's Special Victims Unit began the audit going back more than 20 years to determine whether or not a sexual assault unit for cold cases was needed. It was during this audit that the police department discovered hundreds of kits had been destroyed.
"I'm distraught, I'm frustrated, I'm angry that one person won't get justice because of our practices," Medlock told the room of reporters. "We can't put this issue on anyone but us."
One hundred forty-three of the kits were destroyed in 2006 alone, and almost every FPD employee involved in the decision to destruct the kits is now retired, according to North Carolina's WTVD.
Approximately 50% of the destroyed kits were associated with unresolved or cold cases. The rest were from cases where the rapist was previously known to the victim or where victims either could not be found or they recanted their statements, the Fayetteville Observer notes. Only 52 of those kits were involved in cases that were legally resolved. 
Though the destruction of these kits is not illegal, the practice is frowned upon. "I think it makes all of us angry," said Medlock during the press conference. 
Leaving rape kits untested or destroying them is a growing problem. The examination after an assault can be difficult for many victims, potentially adding further trauma to the ordeal.
"Rape victims agree to physical examinations in the belief that their cooperation will aid in the capture and conviction of their assailant, and the faith they place in law enforcement is broken when the evidence sits for years, unanalyzed, in frozen storage," the Los Angeles Times wrote after a 2009 Human Rights Report revealed there were more than 12,000 untested rape kits in Los Angeles County alone. 
When rape kits are finally processed, they often reveal stark results. In March 2014, the Detroit Police Department tested roughly 1,600 backlogged rape kits and identified 100 at-large serial rapists, 10 of whom were soon after convicted.
In the past, the resolution to backlogs of untested DNA in law enforcement has sometimes been to simply destroy the evidence, just as the Los Angeles Police Department did. 
"We also look back and think, 'How could we have done something like that as an organization?'" Medlock told the press conference. "But not to minimize that, I've looked back several times over my career and wondered how we, as a police profession, did this and, at one time, we thought it was an accepted practice. Now we find that has some long-term, far-reaching consequences."