Ted Cruz 'Late Show': Stephen Colbert Grills 2016 Candidate on Gay Marriage, Immigration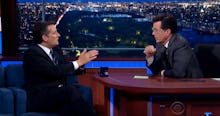 Republican presidential candidate Ted Cruz joined Stephen Colbert on The Late Show Monday night to discuss his run for the White House and campaigning across the states, among other things. 
One moment in the exchange became particularly uncomfortable, when Cruz began to lay out what it is his campaign stands for. "Listen what I'm fighting for are simple principles," the Texas senator tells Colbert in the segment. "Live within our means, stop bankrupting our kids and grandkids and follow the Constitution."
Colbert then adds, "And no gay marriage... and no gay marriage," which causes Cruz to hesitate for a second before jumping back in with a response: "Well, no actually, let's be precise: under the Constitution, marriage is a question for the states." Colbert replied, "It doesn't mention marriage in the Constitution."
The two also discussed President Ronald Reagan having an amnesty program for undocumented immigrants within the United States and the fact the 40th president actually raised taxes — two things Cruz told Colbert Monday night he "of course" wouldn't support in his campaign.
Check out the interview from The Late Show with Stephen Colbert below: