Snoop Dogg Will Be Launching Merry Jane, His Own Marijuana-Centric Media Company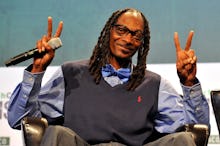 Snoop Dogg is essentially cannabis incarnate in the popular imagination. The 43-year-old rapper has been rapping and advocating about the people's right to toke with an unequaled smoothness for years. His latest business venture will only deepen that love. 
On Monday, Snoop Dogg announced the beta launch of a new marijuana-centric media platform called Merry Jane during a talk at the Tech Crunch Disrupt expo in San Fransisco. The site will reportedly act as an encyclopedic authority on all things marijuana, providing users with information on dispensaries and strains, as well as original cannabis-related lifestyle media. In short: The biggest marijuana aficionado of them all is about open up a whole new world of weed-smoking.
The Granddaddy Purp of dope sites: The site is currently in beta testing, with only 420 users a day offered the chance to peruse the goods. According to Snoop Dogg and his team, however, they'll be offering quite the bounty. The Merry Jane team is planning to create a comprehensive database of strains, complete with a search function that will allow users to select the effects they'd like their weed to offer in order to recommend the perfect smoke. 
The site will also then help point users in the direction of dispensaries that register with Merry Jane, where users can go to find their choice Blueberry Kush or Girl Scout Cookies.
Merry Jane will also offer new weed-focused shows, including one on cooking edibles and pairing food with weed, plus a show called Deflowered that will focus on users trying dope first time. 
"Seth Rogen is down with the team, so he'll be providing us with content," Snoop Dogg said during TechCrunch Disrupt. The team also singled out Miley Cyrus, who offered the site a shout-out in one of the sketches that aired during the 2015 MTV Video Music Awards. 
Merry Jane will also be offering deeper dives on marijuana policy, legalization and industry growth, between all the entertaining quick hits.
The new green movement: Snoop Dogg see this platform as a way to grow the home-grown global cannabis movement. The United States' legal marijuana market grew 74% between 2013 and 2014, according to researchers from the ArcView Group, and the market is now worth up to $2.7 billion. A 2014 report from Marijuana Business Daily forecasted the industry may hit $8 billion by 2018. Merry Jane offered $11 billion by 2019 in their presentation. 
"We're providing the industry with something that's void right now," Snoop Dogg told TechCrunch Disrupt. "We are the information hotline for cannabis. We are what's missing." 
Part of the mission also seems to be a push to normalize and familiarize Americans with cannabis culture. The snippets of prepared media the company offered during its presentation offered a diverse picture of marijuana smokers. They featured bearded, long-haired stoners, but weed-smokers are also business leaders, elderly women and Marines, who enjoy a featured role in the first offering from Deflowered. 
"There are so many people in the closet, and we are giving them an opportunity to come out of the closet and just admit they like to smoke," Snoop Dogg told the audience. "I'm a smoker, my name is Snoop Dogg and I'm a stoner."
The site will officially launch to the public in October. Watch the first clip from Deflowered below.
h/t TechCrunch