Turing CEO Martin Shkreli Wanted to Make Former Colleague and Family Homeless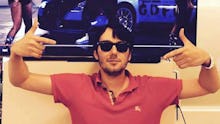 When Martin Shkreli and his company Turing Pharmaceuticals hiked the price of the lifesaving drug Daraprim, he became, for many, the embodiment of corporate greed and a modern day Mr. Burns. While the former hedge fund manager turned biotech entrepreneur has never tried to block out the sun, his record is replete with similar instances of questionable and even criminal behavior.
The court case: In 2013, while Shkreli was serving as CEO of the biopharmaceutical company Retrophin, he reportedly engaged in a litany of harassment against company employee Timothy Pierotti. In a sworn affidavit to New York's State Supreme Court, Pierotti claimed Shkreli and the company had hacked into his AOL, Gmail, Twitter and LinkedIn accounts and Shkreli sent a letter to Pierotti's wife saying, "I hope to see you and your four children homeless and will do whatever I can to assure this." 
The affidavit also alleges Shkreli added one of Pierotti's sons on Facebook and wrote to him, "I want you to know about your dad ... he betrayed me. He stole $3 million from me." Shkreli also reportedly reached out to Pierotti's brother, father and another child who was a minor. 
The falling out appears to have been a final rupture of a long working relationship between the two men. According to a now-removed LinkedIn page, Pierotti also worked with with Shkreli as a project manager for his hedge fund MSMB Capital Management LLC. The affidavit came in response to a legal dispute between Retrophin and Pierotti which was dropped in 2014. Pierotti declined Mic's request for comment.
Running Retrophin: Shkreli also ran into additional troubles while at the helm of Retrophin. In 2012, the nonprofit Citizens for Responsibility and Ethics in Washington formally asked Wall Street-busting U.S. Attorney Preet Bharara to investigate Shkreli for illegal biotech and pharmaceutical stock manipulation, alleging:
Mr. Shkreli has posted blogs on investing website SeekingAlpha.com, spreading unfounded and inaccurate rumors about drugs owned by companies he was shorting. He also inserted himself into the FDA approval process for pending drugs of companies he was shorting. Following such actions, the companies' stock price dropped and Mr. Shkreli made money.
Today, the financier has insisted his recent Daraprim price hike is intended to create more effective treatments, but in 2012, CREW's then Executive Director Melanie Sloan had a very different take. "Mr. Shkreli seems more interested in lining his own pockets than in fostering groundbreaking medical advances," she wrote in a press release. 
In 2014, Retrophin ousted Shkreli as CEO, prompting his resignation from the company and the creation of Turing Pharmaceuticals. Retrophin, citing a breach of "duty of loyalty" stipulation that requires executives to act in the best interests of the company, sued Shkreli for $65 million. 
"Shkreli was the paradigm faithless servant," the suit read. "Starting sometime in early 2012, and continuing until he left the company, Shkreli used his control over Retrophin to enrich himself and to pay off claims of MSMB investors (who he had defrauded)." 
Mic left a voicemail on Shkreli's phone shortly after 10 a.m Tuesday.