Volkswagen Recall: Complete List and How to Check if You Were Affected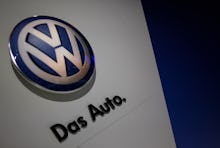 The Obama administration on Friday ordered a sweeping recall of Volkswagen vehicles for violating emissions legislation. A major win for the environment, the recall also leaves nearly half a million American drivers wondering about next steps.
Per the Huffington Post, a list of recalled diesel-powered vehicles by model and year is as follows:
Volkswagen Jetta, 2009-15
Volkswagen Beetle, 2009-15
Volkswagen Golf, 2009-15
Volkswagen Passat, 2014-15
Audi A3, 2009-15
Volkswagen also offers a search tool to research current recalls and service campaigns. Entering a 17-character Vehicle Identification Number, or VIN, lets a driver determine if Friday's recall affects his or her vehicle.
In recent recalls, wait times for replacements and repairs can drag on for years, the Huffington Post reported in May. In the meantime, drivers can request a loaner replacement from their dealership.
The Environmental Protection Agency ordered the recall after discovering that certain vehicles were equipped with software designed to alter results of emissions control testing. During inspection, the software masked the actual emission rate of nitrogen oxide, which could be up to 40 times the legal limit, according the Huffington Post. 
Volkswagen CEO Martin Winterkorn said he took full responsibly for the debacle. "I personally am deeply sorry that we have broken the trust of our customers and the public," Winterkorn said in a statement. But Volkswagen's shares have since tumbled as much as 23% in Europe, NPR reports, and the auto maker could face up to $18 billion in fines, according to Associated Press. 
The EPA is working with the Department of Justice and the state of California to assess long-term consequences for Volkswagen. The automaker has since announced it will stop selling 2015 and 2016 Audis and Volkswagens equipped with 4-cylinder turbo diesels, the New York Times reports. However, the fallout from the Volkswagen scandal could have lasting consequences for the auto industry at large, according to the Wall Street Journal.