John Lennon Mocks Disabled People in "Shocking" Video From 1960s Beatles Concert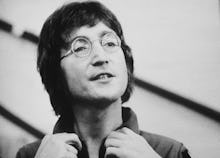 If the late John Lennon were alive today, he'd find himself on the receiving end of a barrage of angry tweets and comments condemning his offensive behavior. The Beatles legend came under fire this week after a video surfaced online of Lennon appearing to mock disabled people during a concert in the 1960s. 
The footage aired over the weekend on the British TV show It Was Alright in the 60s, Metro reports. A clip of Lennon stomping his feet and clapping his hands in a manner that appeared to ridicule people with disabilities quickly went viral and sparked outrage on social media. Twitter users used the hashtag #AlrightInthe60s to berate the late musician, who died Dec. 8, 1980 after he was shot outside his New York apartment building. 
The new video footage shows a then-24-year-old Lennon instructing the crowd to "clap [their] hands" and "stamp [their] feet on the floor" while making obscene gestures and faces to mock people with disabilities. 
Disability advocacy groups said they were disturbed by the footage. "Times may have changed but I always find it hard to believe how such famous people can have these horrible views about real people," Lorainne Bellamy of Mencap, a U.K. charity for people with disabilities, told the Independent. She described the footage as "shocking" and said when she was younger, "It wasn't uncommon for people with a learning disability to be publicly laughed at and made fun of at the time."
Here's the video clip of Lennon mocking disabled people: