Can You Spot How These Unique Purses Are Removing the Stigma From Vulvas?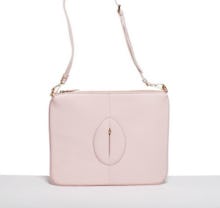 Rachel Feinberg's purses are difficult not to notice.
In a palette of pink, dark purple, gold and black, all of Feinberg's bags bear a special emblem on the front. One might mistake it for a coffee bean, or maybe a pair of plumped lips — which isn't actually that far off. On closer inspection, the emblem reveals itself as a vulva, with pronounced labia and a "clitoris" peeking through in the form of a gold bead. 
The bags, which are called Pussy Pouches, are conversation starters, which is exactly what designer Feinberg wants. 
An empowering conversation: Feinberg has been selling these bags since her senior year at Parsons School of Design nearly two years ago, after the idea came to her on the F train in New York City. Scrunched between strangers, she began to look around and take notice of how men and women were sitting. 
"I looked up and all the women around me were sitting with their purse in their lap and their legs closed together tightly," Feinberg told Mic. "And men had very little consciousness of the space around them. Their arms were extended and their legs were spread. I became obsessed with it." 
As a designer and Parsons student, Feinberg knew she wanted to create art from a societal justice. She also knew that the art should be used to prompt an empowering conversation about women's existence in public, like street harassment or how much space they are allowed to occupy. Taking inspiration from the politics of subway-riding, she created a clutch designed to sit on the lap of a woman, with stitched labia lips on the front.  
"A lot of the design went into how women were going to be wearing this," Feinberg said. "[For] the first one, there was no straps. And that's because the bag was to be placed on your lap as a way to subconsciously protect and represent your genitalia." 
From the name "Pussy Pouches" to the design itself, it's clear what Feinberg is trying to proudly display on all of her bags. Some look more like small folds with a bead sticking out near the top, but the design's illusion and glorification of the female form is always evident. 
"I wanted to remove the stigma and proudly display these designs," she said. "Even with the name, I wanted people to be forced to say it, to stop being afraid of discussing this part of womanhood." 
Using design to confront beauty standards: Yes, genital beauty standards. The design sewed into her backpacks, clutches and overnight bags is, admittedly, an idealized version of a vulva.
"We've now decided that the vagina needs to look a certain way," Feinberg said. 
According to a pageant held this year to find the "world's most beautiful vagina," the "perfect" vagina is one with no hair and little to no epidermal imperfections. The results of a study on that pageant concluded that vulvas with "labia minora [that] don't protrude and are soft" have a certain appeal as well.
Presenting such a simplified, clichéd vulva design, Feinberg said, is another way to get people talking.
"The design is of a vagina no one has, but it is also the design of a vagina some people think is possible, and ideal," she continued. "I wanted to use the template and open up the conversation of how, now, a hairless vagina is a beautiful vagina, and why that might be." 
For shoppers looking to spruce up and take ownership of the vaginas on their latest accessory, Feinberg offers vajazzling (a.k.a. Swarovski crystal embellishment for the additional price of $50 to $100). Buyers can choose from four different embellishment options, including "outline," "fill," "radial" and "orgasm." Because if you're going to have a vulva on your bag, you may as well add some sparkle. 
Reactions have varied. While teachers at Parsons weren't wild about the idea, members of Feinberg's feminist class were. She submitted the design as her final project for the class and, shortly thereafter, launched her company, DAMNsel. She says she came up with the name by a process of elimination and was drawn to the idea of a damsel in distress, with fashion playing the part of the oppressor. 
The response to the bags on the street have been mixed. Some people are outraged, and others immediately flock to Feinberg to find out more.
"When people notice it out, it's a pretty split response," she said. "It's either 'Is that a vagina on your bag?' with a degree of aggression or 'Oh I love that.'"
But she's found her audience. The conversations Feinberg has had with the general public have varied as well. "I've spoken with everyone from heterosexual men to orthodox Jewish women, and they always have some sort of new input," she said. "I've concluded that my customer is just someone with an open mind and someone who believes in equality and the empowerment of women." 
Based on orders from her website, she's noticed a large percentage of packages being shipped beyond the United States, with places like England, Canada and Australia particularly interested. She's also gotten feedback online from several young women who are gifting the bag to their younger female friends on their birthdays.
And if you're wondering just how consistent sales have been: Feinberg's fanbase has grown so quickly over the last two years of on-and-off press attention and social media coverage that two months ago, Feinberg prepared a lookbook, made a majorly NSFW launch video and introduced nine more designs with assorted colors, including a wallet and a backpack with six discreet slits gracing the front. (NSFW image and video below.) 
With pop stars like Rihanna embracing genital wear (see: the #cockclutch) it's no surprise that pop culture's elite have embraced Feinberg's design. Chief among them is leader of the free world, Beyoncé, who was photographed with the brand's original Pussy Pouch early last year. Other fans include model Andreja Pejic and, most perfectly, two founding members of Pussy Riot, Nadezhda Tolokonnikova and Maria Alyokhina. 
The future of DAMNsel. Now that Feinberg's pussy pouch has officially found its audience and the line continues to grow, she's looking to the future. Although she appreciates the support behind her pouches, she's looking to spark further conversations about the politics of gender in ready-to-wear.
With more official information due to come in February, Feinberg's next frontier will involve designing a unisex line of clothing that takes aspects of school uniforms and traditional workwear to create a discussion of gender norms. 
Yet again, she's doing what she set out to do years ago: spark a conversation by way of fashion.