Azealia Banks Hurls Homophobic Slur at Delta Flight Attendant in Heated Exchange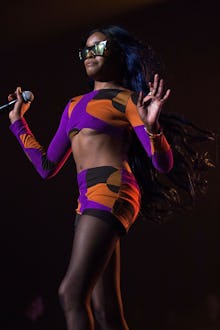 After a Monday night flight to Los Angeles, Azealia Banks wanted to get off the flight as quickly as possible. Unfortunately, after someone blocked her way out, things got heated — ultimately leading to her calling a flight attendant a "fucking faggot."
As first reported by TMZ, complete with video, the rapper's attempt to deplane from a Delta flight was blocked by a French couple. In the video, Banks yells repeatedly for the flight attendant to give her her bag and allow her to walk off. Another Delta employee comes up to diffuse the situation.
"I was coming through and he says, 'Wait,' puts his hand in my face," she explains to the second official. "Then he pushes me back to let her through. ... I'm trying to go home."
After finally getting her bag, Banks drops the homophobic slur and walks off.
According to TMZ, Banks claimed the man who reached his hand out to stop her hit her. "I don't tolerate bitchassness, and I don't tolerate men putting their hands on me," she reportedly said.
After the clip started making the rounds, Banks locked her Twitter account to non-followers. (She unlocked it later in the day.)
This is not Banks' first incident of using gay slurs publicly. The bisexual rapper used the term to describe blogger Perez Hilton, then justified it by explaining that it comes from a "feminist" place and perspective.
"To be homophobic would imply that I'm, like, 'I can't sit next to a gay man, cuz Imma catch the gay,'" she told Xorje Olivares on SiriusXM last winter. "But I already caught the gay. I feel like when I use the word 'faggot,' it comes from, like, a feminist point of view, not a homophobic point of view. It's really just kinda like you feel attacked as a woman."
Banks is notorious for being one of the most outspoken artists in the music industry, from her long-running criticisms of rapper Iggy Azalea to defending Donald Trump.
After she unlocked her account again, Banks sent a series of tweets about the incident. She defended her use of the homophobic language, saying, "I am bisexual. My brother is trans. My employees are all gay men. Nothing else to say."
June 29, 2015, 3:59 p.m.: This story has been updated.