Ryan Adams: 5 Other Albums We'd Like to See From '1989' Cover Singer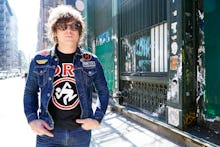 On Monday, Ryan Adams dropped a mind-bending cover album of Taylor Swift's 1989. Queue music writers spilling a lot of ink and Adams/Swift fans going ballistic. 
Armed with a four-track cassette recorder, ample harmonicas, acoustic guitars and a rogue will to reinvent, Adams successfully transformed Swift's album into an altogether different record.
According to A.V. Club, Adams might have just achieved the ultimate heartbreak album. "This approach to 1989 works so well in part because Adams tends to be at his best when he's wallowing in heartbreak," reports A.V. Club. "But it's also successful because he doesn't overstate this interpersonal drama."
Even Swift caught the fangirl bug when the record was first announced. 
It could be that Adams' ability to transform much-loved music is his superpower. Grantland points out Adams' cover of Oasis' "Wonderwall" is the musician's most-streamed track on Spotify, and ventures that 1989 is poised to be Adams' most popular record. 
"I'm not surprised that they're more popular because they're already more popular, so that makes sense," Adams told Grantland. "But I usually don't think to cover a song unless it's something that really moves me or there's something for me to offer the song."
Clearly, Adams has the chops to remold landmark records. So which five albums should he tackle next? 
1. Radiohead's Kid A. Released in 2000, Kid A was the UK band's fourth studio album. Hearing Adams build on the record's ambient experimentalism would be an exercise in genre bending. 
2. Natalie Prass' debut, self-titled LP released Jan. 27. The Virginia native and singer-songwriter serves up retro-hued baroque pop. Prass and Adams' style align closely. In fact, the two have already collaborated. 
3. The War on Drugs' Lost in the Dream. The third studio album from American indie rocker Adam Granduciel, Pitchfork named "Lost in the Dream" the third best album of 2014. A rework from Adams could take Granduciel's dislocated Americana to the next level. 
4. Haim's Days Are Gone. The California sister act's 2013 pop-rock record would be a departure for Adams. But Days Are Gone boasts some powerful heartbreak tracks, and, as an aside, Haim has been joining Swift for select shows on the 1989 World Tour. 
5. Beyoncé. Because that's what the Internet wants. 
And if the thought of Adams reinventing those albums isn't mind blowing enough, head to Stereogum to hear Father John Misty cover Ryan Adams' cover of Taylor Swift's "Blank Space," in the style of The Velvet Underground (mind implodes).