iPhone 6S Ships Early: Videos, Photos of New Apple Products Appear Ahead of Release Date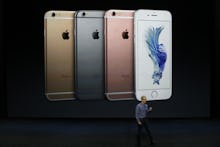 Adrienne Alpern, a graphic designer from San Diego, received her pre-ordered rose gold iPhone 6S on Monday, five days earlier than the release date of Sept. 25.
Naturally, the lucky customer, Alpern, is showing off the features of her new gadget on Twitter and making the rest of us jealous. 
Apple unveiled the iPhone 6S and iPhone 6S plus at its Keynote address Sept. 9, calling them the fastest and best performing devices yet. An A9 chip is supposed to make the phone faster and more energy efficient. The device is available in four colors: silver, gold, space grey and a new rose gold color.
She posted pictures of the new rose gold color that you can't have yet:
And demonstrated the impressive 4K video quality, which matches that of a GoPro:
Sorry, everyone else — you're going to have to wait to take crystal-clear videos of your dog.
Alpern did say the video quality is being compromised by Twitter, and it still looks this good. 
The photo quality isn't bad, either. The 12-megapixel camera has 50% more pixels than before. The camera boasts highly accurate color and skin tones, the company said. That front-facing selfie camera jumped from 1.2 to 5 megapixels.