J.K. Rowling Traces Harry Potter's Family Back to the 12th Century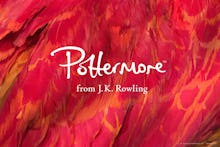 "You're a wizard, Harry," Hagrid told Harry Potter about his magical lineage in Harry Potter and the Sorcerer's Stone, the very first installment of J.K. Rowling's massively popular book series. However, just in case Hagrid's brief explanation of the wizard's family background wasn't satisfactory for readers, Rowling unveiled a family tree that dates back as far as the 12th century for the relaunch of her site, Pottermore. 
"The Potter family is a very old one," Rowling writes in the beginning of the fictional short-read. "But it was never (until the birth of Harry James Potter) at the very forefront of wizarding history, contenting itself with a solid and comfortable existence in the backwaters."
The author takes time in the post to articulate just about every aspect of the main character's family tree, from the origins of the Potter surname to a mysterious "Dragon pox" that ended the lives of two of his ancestors.
"The wizarding family of Potters descends from the 12th century wizard Linfred of Stinchcombe," the post explains. Linfred was the first of many wizards from Potter's lineage, who was nicknamed "the Potterer" and was a beloved member of his community for curing people of their diseases with his magical potions. Because his neighbors were unaware of his wizard status, Linfred managed to create a booming business and put aside gold for his children and their families. 
Rowling has remained an active member of the internet subculture that surrounds the Harry Potter series. The author often uses Twitter as a voice to update readers on the fictional lives of her characters, as well as to shut down her trolls. 
The relaunch of Pottermore will allow Rowling to post updates and new revelations about the Harry Potter universe in more than 140 characters. "J.K. Rowling is continuing to expand her magical universe, and as the wizarding world expands, so does Pottermore," Pottermore's CEO Susan L Jurevics told the Guardian. Rowling has affectionately deemed the website her "magical corner of the Internet." 
"The fascinating story of the Potter family, from the author herself, will enthral everyone interested in this world and shows just how J.K. Rowling's writing remains at the heart of our new site," Jurevics said.