Fetty Wap "Jugg" Feat. Monty Lyrics: Listen to New Single From the Rapper's Debut Album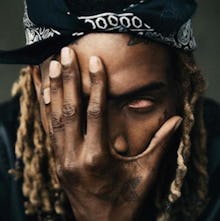 Fetty Wap's self-titled debut album drops Friday, but the rapper wants to teach his fans how to "jugg" before the release.
The "Trap Queen" artist released "Jugg," featuring Monty, on Monday in anticipation of his full-length debut. The song premiered exclusively on WorldStarHipHop.
The lyrics depict exactly what fans would expect from the New Jersey rapper: a reckless, club-banger anthem dedicated to jugging.
"I'm like baby how you doing? I'm trying to roll with you/ Bust a couple moves, see how well you move/ I'll teach you how to jugg with me, I'll teach you how to jugg with me/ I could teach you how to jugg, baby, you know Zoovie, I'm the plug, baby/ You ain't fucking with no scrub, baby, I be throwing hella dubs, baby/ Throwing fifties for the love, baby, when I pull up in the club, baby/ All the strippers show me love baby, hella bottles in my section, baby."
According to Urban Dictionary, to jugg someone means to rob them. Fetty Wap uses the Atlanta slang to describe his fast-tracked rise to fame in the hip-hop industry, and the success that has come with his new status.
The rapper shouts out his and Monty's squad, Remy Boyz 1738. Fetty Wap explains that the "1738" refers to a Remy Martin cognac his friends enjoy, as it's "the finest liquor in an urban district."
"Baby girl is you gon' jugg with me baby? Is you gon' finesse the plug with me baby?/ You gon' fuck around, throw them dubs with me baby? You gon' fuck around, hit that club with me baby?/ ZooGang they gon' show me love for me baby, cause no one above us, baby, yeah baby 1738, squad." 
Miami-based Monty kicks off the second verse, focusing on his similar rise from humble beginnings: 
"I come from the hood, baby, Loyalty's in my blood/ I used to sell them drugs, shouts to my plug/ My whip's on dubs, baby, I wish a nigga would/ Rollin' up them Woods, baby, get it understood/ Do everything I could, baby, I ain't with the bull/ I'm eatin', yeah I'm full, baby, could show you how to jugg, baby, 1738, ZooWap, Monty, squad."
"Jugg" is the sixth release from Fetty Wap, which has 17 tracks, 20 on the deluxe version. Monty features in nine of the songs on the album, which is available on iTunes Sept. 25.