One Direction New Album 'Made in the AM': Release Date, Pre-Order Options and New Single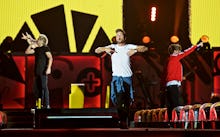 The fifth and final studio album from One Direction, Made In The A.M., is scheduled to drop Nov. 13, MTV reports. And as a parting gift to diehard followers, 1D is throwing fans a bone ahead of the album's release date. 
As of Tuesday, Made In The A.M. is available for pre-order from iTunes, Harry Styles announced via Twitter.
As an added bonus, 1D fans who preorder the album will be able to download the album's single "Infinity" on iTunes. "As a little treat, can you can download album track 'Infinity' instantly," Styles said in a Twitter video. "Infinity" also became available for streaming on Spotify shortly after Styles posted to Twitter. The band is currently deep into their sold-out On The Road Again tour. 
The track is the second to surface from Made In The A.M. after the album's first single, "Drag Me Down," which the band released July 31. The song quickly made its way to No. 3 on the Hot 100, according to Billboard. 
"Drag Me Down" was the first track One Direction recorded without Zayn Malik, EW reports, after Malik exited the group in March. In July, Malik took to Twitter to announce he had signed as a soloist to RCA records.
The remaining members of 1D — Styles, Liam Payne, Louis Tomlinson and Niall Horan — are expected to disband in March of next year for an "extended hiatus" of at least 12 months, according to Mirror. The reason for the hiatus, which is destroying the lives of preteens everywhere, is reportedly to focus on solo work, Mirror reports.