Grimes Says Men Still Get All the Credit for Women's Creative Work in a New Interview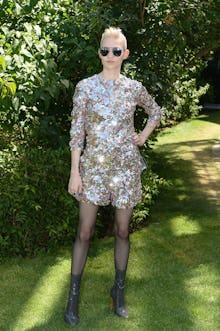 Claire Boucher, better known as the indie electronic artist Grimes, has been working to unmask the music industry's sexism for years.
She's written essays and numerous Tumblr posts; she's spoken about it in interviews. Most impressively, she tries to live out, as much as she can, the woman-led music industry paradigm she's frequently preached. 
"It's like I'm Phil Spector, and then there's Grimes, which is the girl group," Boucher said in a recent New Yorker profile. Her comparison points out a fundamental truth about pop music: For years and years, we've heard male songwriters and beat-makers crafting songs for women to sing. "It's a mostly male perspective — you're mostly hearing male voices run through female performers," Boucher told the New Yorker. "I think some really good art comes of it, but it's just, like, half the population is not really being heard."
Grimes is determined to change this standard, and her latest album will capture the sound of this new mode.
Women can do technical work. Grimes' upcoming album will highlight a ton of technical and production work performed by women. However, this not entirely by choice. "I can't use an outside engineer," Grimes told the New Yorker. "Because, if I use an engineer, then people start being, like, 'Oh! That guy just did it all.'"
She's discussed this lingering stereotype that listeners and musicians believe female artists can't do technical work before. "Going into studios, there's all these engineers there, and they don't let you touch the equipment," she told the Fader earlier this year. "I was like, 'Well, can I just edit my vocals?' And they'd be like 'No, just tell us what to do, and we'll do it.' And then a male producer would come in, and he'd be allowed to do it. It was so sexist. I was, like, aghast." 
Instead of working the boards, she often finds herself receiving the numbers of male producers, a work situation she describes as "sexually creepy." 
"You might be in there with someone cool, and then an engineer says, 'Here's my number,'" she told Dazed. "I'm like, 'Can you not give me your number while I'm at work and you're supposed to be working for me? For real?' I'd like to be able to go to work and not be asked on a date. I'd like to go to work and be allowed to touch the computer."
Grimes' response has been to try to do as much of her own production and engineering as possible, and to record songs so aggressively feminist, no one would think of questioning her credentials. Her upcoming album will apparently feature a hard-hitting club banger featuring three female MCs rapping about "being too scary to be objectified," as she described it to the Fader, and another "diss track about male producers."
Her aims for the new record are simple. She wants to prove "that women can do technical work," she told Fader. "That I can be a producer and a pop star and also very experimental."
Grimes' album currently has no official release date and no title, though rumors have it slated for October.
h/t Dazed