16 Images of Yemen Show a Beautiful and Surprising Side of the Country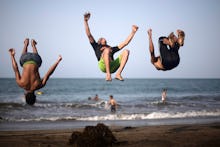 Yemen has been consumed by turmoil in the past few years. The 2012 ousting of former President Ali Abdullah Saleh and a regime change to President Abed Rabbo Mansour Hadi was just the start of the country's political instability. It has since descended into civil unrest and swiftly become a religiously motivated hunting ground for a proxy war between Sunni Saudi Arabia and Shia Iran. 
"The minute the [Houthi] rebels seized the capital, it was pretty clear Yemen was in the midst of a civil war," a reporter, who recently lived in Yemen, told Mic in March on the condition of anonymity for professional reasons.
As a result of this political volatility, Yemen is frequently presented as a generic, war-torn Middle Eastern country. Pictures of rubble, extremists and burqa-clad women are often reproduced during escalations of conflict deemed newsworthy. 
However, photos of Yemen before the political upheaval reveal a very different side of the country. They are images emblematic of swaths of Yemen untouched by violence and which remain as they were before the war.