New Gmail "Block" Feature Allows You to Deny People in Two Clicks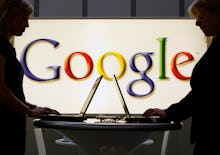 So long are the days when we were forced to compile all of those useless emails from company mailing lists, exes and older relatives and send them to our trash folders. Gmail unveiled a new "block" feature on Tuesday that allows users to simply click on the drop-down menu next to a message in their inbox and permanently block the emailer from being able to contact them or see when they are online. 
Before "block," Gmail only had a filter option, which essentially moved a sender's emails to a separate folder from the inbox. In just two clicks, Google has found a simple way for users to prioritize emails and avoid incessant emailers.
In a post on Google's official Gmail blog explaining the new feature, the company said: "Sometimes you get mail from someone who's really disruptive. Hopefully it doesn't happen often, but when it does, you should be able to say, 'Never see messages from this person again.' That's why you can now block specific email addresses in Gmail — starting today on the web, and over the next week on Android."
Of course, users can always choose to "unblock" certain contacts, which will prove to be helpful for many who will have to start writing back to their elders closer to the holiday season via email. 
A second "unsubscribe" feature, an option already available for the web and iOS devices but not on Android, will soon be included in the Android version of the Gmail app, according to the company. That feature also makes it easier to stop seeing any unwanted messages by clicking "unsubscribe" at the very top of the email, an option users previously had to dig for in the small text at the bottom of emails, Mashable reports.