Pope US Visit Schedule 2015: Cities and Where to Watch Online and on Cable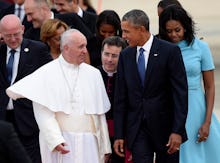 President Barack Obama greeted Pope Francis when he arrived in Washington, D.C., on Tuesday, the first stop on the pope's historic first visit to the United States. During his time in the U.S., the pope, who's known for his progressive views on controversial political issues like same-sex marriage and climate change, will have several speaking engagements, make an appearance at the United Nations and lead a prayer at ground zero in New York City. 
He'll also become the first pontiff to address Congress, CNN reports. Here's where to find the pope on his whirlwind U.S. tour. 
Where to watch: While tens of thousands of people will come to see the pope in person, you can watch all six days of his tour live online or on cable TV. 
Time Warner Cable is adding a 24-hour channel exclusively covering every event on the pope's schedule while he is in the U.S., including additional analysis and local reports from experts, Syracuse reports. The channel is 199 nationwide. CatholicTV will also have live coverage, and major news channels are expected to broadcast highlights from the trip. 
The pope's itinerary: Francis is expected to make stops in three major U.S. cities: Washington, D.C., New York City and Philadelphia.
Washington, D.C.: On Wednesday, the pope will take part in a Papal Parade along the National Mall, a midday prayer with the bishops of the U.S. and lead an evening mass at the Basilica of the National Shrine of the Immaculate Conception. Catholic University will live-stream the entire mass. 
On Thursday, the pope will become the first pontiff to address Congress. A live stream of the event will be available here. 
New York City: Thursday evening, the pope will fly to NYC for an evening prayer at St. Patrick's Cathedral, which will be live-streamed by the church. 
On Friday, the pope will address the United Nations General Assembly at 8:30 a.m, according to the pope's official schedule. You can watch that on the United Nations Web TV Channel. Throughout the rest of that day, the pope will hold a service for all religions at the 9/11 Memorial and Museum at the World Trade Center, visit a Catholic school in East Harlem, lead a procession through Central Park and hold an evening mass at Madison Square Garden. 
Philadelphia: On Saturday, the pope will travel to Philadelphia to host a morning mass at Cathedral Basilica of St. Peter and St. Paul and visit Independence Mall and the Festival of Families. On Sunday, Francis will be be at St. Martin's Chapel in the morning, visit Curran-Fromhold Correctional Facility and hold mass for the conclusion of the World Meeting of Families.