Hillary Clinton Just Announced She Opposes the Keystone XL Pipeline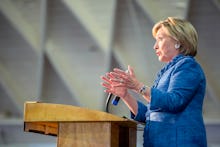 After months spent tap-dancing around the question, Hillary Clinton on Tuesday called the fight over the Keystone XL pipeline "a distraction," then announced she would oppose its construction as part of an effort to reframe the terms of the climate change debate.
"I think it's imperative that we look at the Keystone pipeline as what I believe it is, a distraction from important work we have to do on climate change," Clinton said in response to a question at a town hall meeting in Des Moines, Iowa. "And unfortunately, from my perspective, one that interferes with our ability to move forward with all the other issues.
"Therefore," she said, "I oppose it."
The controversial project would create a nearly 1,200-mile transcontinental artery designed to carry an estimated 800,000 barrels per day of heavy tar sand petroleum from Western Canada to the Gulf Coast, where it would be refined into oil and shipped to market.
Long road to "no": In February, President Barack Obama vetoed an attempt by Congressional Republicans to authorize the building of the pipeline, which needs government approval because it crossed international boundaries. The State Department, which Clinton led from 2009 to 2013, also has the power to greenlight the final stages of assembly.
Clinton said as recently as July 28 that she would not "second-guess" Obama and refrained from offering an opinion until and unless she was elected president in November 2016. In 2010, during her time as secretary of state, Clinton suggested she was "inclined" to back the project. 
But as political pressure mounted throughout this campaign season, she hinted that the time had come to show her hand.
The response: Fewer than 10 minutes after she did, Clinton's opponents in the Democratic primary race, an influential billionaire and a few potential Republican foes weighed in on the announcement. 
"As a senator who has vigorously opposed the Keystone pipeline from the beginning, I am glad that Secretary Clinton finally has made a decision, and I welcome her opposition to the pipeline," Sen. Bernie Sanders, the Vermont independent, said in a statement emailed to reporters by his campaign. "Clearly it would be absurd to encourage the extraction and transportation of some of the dirtiest fossil fuel on the planet."
In his statement, former Maryland Gov. Martin O'Malley, another longstanding opponent, accused Clinton of putting off her decision for political expedience and, with the announcement, pandering to liberals and environmentalists dedicated to scuttling the project.
"On issue after issue — marriage equality, drivers licenses for undocumented immigrants, children fleeing violence in Central America, the Syrian refugee crisis, and now the Keystone Pipeline — Secretary Clinton has followed, not forged, public opinion," O'Malley said in his statement. "Leadership is about stating where you stand on critical issues, regardless of how they poll or focus group." 
Billionaire environmentalist Tom Steyer emailed reporters to celebrate the decision, calling it "a clear example of people power overcoming the special interests." Steyer has pledged that his super PAC NextGen will spend in the neighborhood of $100 million in the coming general election season in support of the candidate he believes is most likely to put climate change issues at the top of their agenda.
On the Republican side, former Florida Gov. Jeb Bush was to quick to tweet his disapproval, saying that Clinton had taken up the cause of "environmental extremists."
And one of the pipeline's most vocal supporters, Louisiana Gov. Bobby Jindal, chimed in, too.