Celebrate Bisexuality Day 2015: 5 Famous Bisexuals Shaping How We View Sexual Orientation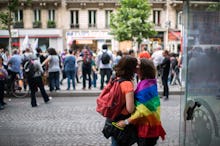 Wednesday marks Celebrate Bisexuality Day 2015, when those who identify as bisexual and their supporters celebrate and educate the world about bisexuality. And surely, this is a year to celebrate. 
There has been a bounty of significant strides sprouting from LGBT activism in 2015: the landmark Supreme Court ruling in June, President Barack Obama hiring the first transgender employee as well as nominating the first openly gay Secretary of the Army and a number of prominent public figures either supporting LGBT rights or coming out as LGBT themselves. 
But each letter in the commonly used abbreviation represents a distinct and unique subset of people. Bisexuals, however, have historically been left out of mainstream LGBT events. Each of those groups deserves its own day of support because by speaking about the things that make us different, we can work together to understand what makes us who we are. 
By speaking about the things that make us different, we're working together to understand what makes us who we are.
Here are five iconic celebrities, politicians and other public figures who identify as bisexual and who are transforming the way society views the sexual orientation:
Anna Paquin, True Blood actress
Anna Paquin is married to her True Blood co-star Stephen Moyer, but the actress has made it clear that a ring on her finger doesn't change her sexuality. 
The star of HBO's hit series publicly came out as bisexual five years ago in a YouTube video for the Give a Damn Campaign, while she was engaged to Moyer. "I'm bisexual, and I give a damn," Paquin shares in the video. "One hate crime is committed approximately every hour of every day in this country."
Talk show host Larry King didn't seem to understand Paquin's point about how being married to a man didn't mean she wasn't bisexual when he interviewed her for Larry King Now in August 2014. "Are you a non-practicing bisexual?" King asked the actress. 
"Well, I mean, I am married to my husband," Paquin replied. "We are happy monogamously married."
King continued, "But you were bisexual?" Paquin then coined the perfect response: 
"Well, I don't think it's a past tense thing. Are you still straight if you are with somebody? If you were to break up with them or if they were to die, it doesn't prevent your sexuality from existing. It doesn't really work like that."
Charles Blow, New York Times columnist
New York Times columnist and respected journalist Charles Blow published a book last fall titled Fire Shut Up in My Bones, which focuses on the writer's difficulty coming to terms with his sexuality. 
In it, Blow describes his marriage to the mother of his children as well as several other successful relationships with women in his life. However, he reveals that he also felt attractions to men since he was a young boy. 
"One thing the gay rights movement taught the world is the importance of being visible," Blow told the Huffington Post in September 2014 about his decision to publicly identify as bisexual. The columnist also explained why he felt his story is important: Although many other public figures have come out as bisexual while married to a member of a different sex, or described the sexual orientation as a phase, Blow wanted his announcement to be very clear:
"Very often the people who we see, the names we know of people who say they are bisexual, they are already in a relationship, or married, or now they can say, 'Oh yes, I'm bisexual, although I'm married to whomever I am right now.' Or people who said that, 'In my 20s I was bisexual and I'm not anymore.' So people who were kind of transitory in that identity. But I wanted to say that, this is as permanent for me as it gets. I'm not 14, I'm not 24. I'm 44 years old. This is how I felt all my life. It does not feel to me in any way transitory. it does not feel like it's going to change. And I also wanted to say that there are people who may not fit what we conceive bisexuality to be."
Zoe Saldana, Guardians of the Galaxy actress
Zoe Saldana isn't your typical silver-screen starlet. The actress is an outspoken supporter of embracing individuality, whether it's gender, sexual orientation or any other character trait that makes people unique. 
In 2013, the Guardians of the Galaxy star told Allure not only can she see herself raising her children with another woman, but that she prefers to be considered androgynous as well. Saldana, who isn't one for labeling, told Allure:
"I'm going to love and admire beauty, no matter if it comes in the form of a masculine essence or a feminine essence. Beauty is beauty. So, up until now, I've known my life to be with men, I've been attracted to the male species, but if one day I wake up and I want to be with a woman, I'm going to do that. And I know I am going to be supported by the creatures that have raised me and love me and know me."
The actress has since defended the statements she made to Allure regarding her bisexuality, telling BET, "There are so much more things that are important besides stereotyping ourselves and limiting ourselves just by putting ourselves in little boxes," according to the Huffington Post.
Alan Cumming, The Good Wife actor
Actor and author Alan Cumming didn't simply come out to the world as bisexual. "My sexuality has never been black and white, it's always been gray," the Good Wife star told the Advocate in March. "I'm with a man, but I haven't closed myself off to the fact that I'm still sexually attracted to women."
Cumming has shared his experiences about being bisexual with fans in his 2014 memoir Not My Father's Son, and has pushed for further LGBT rights and tolerance in the United States. The HBO star produced a viral video this year when he called out the Food and Drug Administration for excluding men who have had sex with other men within twelve months of donation from donating blood. 
And, when it comes to his sexual orientation, Cumming isn't afraid to set the record straight. Having been married to both a woman and now a man, the actor reiterates the same message to the Advocate as Blow explains in his memoir: He has been attracted to both men and women since he was very young, and his sexual orientation doesn't falter each time he's in a monogamous relationship.
The actor says he continues to advocate for gay rights, even with continued successes in the social movement, as further action is necessary to create equality.
"There's been a big change in the LGBT activist world now that gay marriage is spreading like wildfire, it's exciting that transgender people are becoming more and more in the mainstream, but they need protections in the workplace and equal rights."
Kyrsten Sinema, congresswoman
Kyrsten Sinema, first elected in 2012 in Arizona's 9th congressional district, represents a whole lot more than her state. The congresswoman is the first out bisexual person ever elected into congress, doesn't identify with any religion and is a clear indicator of the changing face of politics.
When asked if her family supports her sexual orientation, the politician was quick to make the point that being bisexual is just one of many qualities she has. "I'm the first person in my family to ever hold elected office," she told Elle in May 2013. "I think the entire Sinema clan is happy."
While Sinema told the magazine she has always been out, it was in 2005 when she made a public statement during a press conference as a Republican official was making negative comments about the LGBT community, the Daily Beast reports. "We're simply people like everyone else who want and deserve respect," she said to her colleague. She later confirmed to the reporters in the room what everyone immediately began assuming from her comment by casually stating: "Duh, I'm bisexual."