How to Get the IKEA Look Without Actually Buying More Tired, Old IKEA Stuff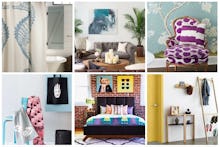 Ikea. It's the retailer every 20-something has an on-again, off-again relationship with. The furniture is the definition of affordable, and its restaurant is a major selling point. But the shopping experience can be frustrating, the assembly is close to impossible and it's been the catalyst of countless ruined relationships.
Ikea has become a staple of young adulthood, so we're all too familiar with the furniture. Sure, it looks nice in your apartment, but the same eight pieces are in everyone else's apartment, too. Don't you deserve a home that's a little more unique, grown-up and expresses your personality better than plain white pressboard?
Skip Ikea for even more swoon-worthy furniture options; it might be a bit pricier, but it's worth it to have décor all your friends will envy (and won't have to help you assemble). Here are 10 places for all your furnishing and decorating needs. No, they don't have Swedish meatballs, but what they do have is some good-looking home décor.
1. Hem lets you customize furniture so your apartment doesn't just look like everyone else's.
"We believe that great design ... should be as easy to purchase as ordering a taxi, messaging a friend or sharing a photo," says Hem's mission statement, a far cry from Ikea's chaotic, gigantic warehouse. The online retailer offers exclusive collaborations with selected designers and a host of customizable options, all with a clean, art-deco feel.
2. Forage Modern Workshop helps make your décor feel personal, not mass-produced.
Forage Modern Workshop is a Minneapolis-based brand with a Midwest modern sensibility. Whether you need seating, tables or lighting, there's a wide range of options to fit any budget, and each collection is curated from the workshops of small, quality studios. Think clean but rustic designs with a modern, colorful twist.
3. ModCloth is great for showing off your personality with quirky, unexpected pieces.
You might know this online retailer mostly for the cute, retro clothes, but you can buy décor there too, and just like Ikea, you never know what quirky item you might find. Yes, there are shower curtains and bedspreads, but there's also an octopus laundry bag and a Pac-Man lamp. Complete with punny names, this is where to find that statement piece you never knew you needed.
4. Apt 2B has just the twist you need to spice up your home-décor basics.
This is where to buy that color-pop accessory to jazz up your plain Ikea furniture. From cool clocks to area rugs, this fun retailer has just what you need to spice up your home without breaking the bank.
5. Umbra's goods are useful and seriously good-looking.
Umbra is your one-stop shop for all things functional, from coat racks to ice cream scoops. The sleek, steel and wood designs are a welcome contrast to Ikea's laminate and pressboard. Plus, there's nothing like, say, an umbrella stand to make your home feel grown-up.
6. One Kings Lane has great prices, even by Ikea standards.
One Kings Lane is Ikea all grown up. The best part: The design offerings are vast, and there's something for every style, from quirky and colorful to sleek and modern. Whether you need an area rug or a salt shaker, here's where to find one all your friends won't have. The only catch: Items are sold flash sale-style, with each product available for only three days or so, so you might have to make a quick commitment. (Don't worry, most items are returnable.)
7. Wayfair has great deals, but only for those in the know.
Though you'll have to subscribe to the email list to take advantage of it, Wayfair offers the best perk of all: up to 70% off. Featuring partnerships with other home brands and a bevy of coupon codes, Wayfair has prices that even Ikea might find tough to beat.
8. World Market lets you mix up your décor on a budget.
This retailer is your one-stop shop for all your home needs: You can buy everything from furniture to rugs to bath products. Best, though, are the seasonal accessories; you can be ready for every season and holiday with cute trinkets that will make your place festive and your décor look far more expensive than it is.
9. H&M Home has the designs you already love for your clothes, for your home.
That's right: Fashion giant H&M has an online-only home section. Here you can find décor designs in the same vein as the clothes: Bold colors, pretty patterns and an always-on-trend feel at a wallet-friendly price.
10. DesignPublic can make your place look sleek, clean and modern.
If you're into modern design, you can find whatever you're looking for on this fresh-feeling website. There's more than just the basics, too — big points for the beanbag section. DesignPublic is the place to go if you're looking for a functional-yet-attractive piece you know your friends won't have.