Stephen Colbert's 'Late Show' Musical Guest Raury Had a Powerful Message for Donald Trump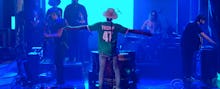 On Tuesday, Stephen Colbert delivered up another rock star Late Show performance featuring interviews with Republican presidential front-runner Donald Trump and U.S. Secretary of Energy and key Iran deal negotiator Ernest Moniz.
But his musical guest, the 19-year-old Atlanta-based Raury, stole the show. When the teenager learned the Donald would precede him, he used the opportunity to make a statement.
Shortly before he was set to perform live, Raury changed into a green Mexico soccer jersey which, like so many Manhattan skyscrapers, bore the name Trump. Unlike those glistening towers, the teenager crossed it out with a large red X.
"Trump embodies separation, solving problems with anger, fear and personal differences," the performer told Vice News. "I'm all about the opposite, about being inclusive and open."
When the moment finally arrived, the big reveal looked something like this:
It was unclear if the late night host or his show were in on the act beforehand. After the performance, Colbert greeted the teenage star warmly and received his own jersey but made no mention of the stunt. The show's cameras, meanwhile, declined to zoom in on the message, allowing it to fly by for anyone not paying close attention.
"I'll always have something to say, especially when it affects me, like police brutality or giving the police any more power," Raury told Vice News. For Trump's part, Vice reports he had already left the studio and has so far not issued public comment.
The stunt was only the latest in a long series that has channeled anger over Trump's pronouncement that Mexican immigrants were drug-running rapists. While the comments, made during his campaign launch event on June 16, have been somewhat eclipsed by more recent outrages, like this one and this one and this one and this one, the Raury act shows that Trump's words and policy positions regarding Mexican immigration continue to draw ire. 
Since his campaign for president began, the billionaire real estate magnate has surged to the top of the polls and swept away once powerful rivals. At the same time, he has been dropped from his former reality show Celebrity Apprentice, while groups from Macy's to NASCAR have severed their ties with him. Trump has also inspired tokens of mockery from piñatas to butt plugs. 
But with party leaders resigned to a long Trump candidacy, it will take a lot more than Raury to bring the campaign to a halt.