The Bra of the Future Is Here — And Every Woman Should Be Excited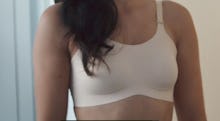 Bras are uncomfortable. They don't last through the day. They smell. For women, especially those of us who work out, these problems are omnipresent. Ask any woman at the gym and she'll likely admit she's got a change of bra with her.
But thanks to Canadian company Knix Wear, there's a solution.
Enter the "Evolution Bra," constructed to be eight bras in one. Its materials are anti-microbial, odor-killing, moisture-wicking and quick to dry. In other words: So long, boob sweat. 
The bra is raising money on Kickstarter, and it's already blown past its funding goal. At the time of writing, the project has gathered $117,519 and 1,492 backers, and it has 30 days to go. Also, the more money the campaign reels in, the more sizes will be available to the public, along with a version that's slightly lined.
Created with functionality (rather than just design) in mind, the bra is available in sizes 32A to 38DD, and it will cost $55. 
"We have created a product that women have been waiting for," Knix Wear founder Joanna Griffiths told Mashable. "The bra, like its construction, is a chameleon: part fashion, part function, part everyday, part sports bra."
The bra comes with two sets of adjustable straps — in black and cream — that allow the buyer to wear the bra in multiple ways. Oh, and it's reversible with no underwire. It's truly like all our bra dreams have come true.
Knix Wear, the company behind the magical bra, is more commonly known in the undergarment industry for high-tech underwear that was funded on Indiegogo in 2013. The panties are constructed from a similar odorless, moisture-wicking and seamless fabric. According to their Kickstarter, after selling 100,000 pairs of that underwear to women in 35 different countries, manufacturing bras was just the next logical step. 
Function over design: Griffiths says she was moved to design a bra because she found the industry focuses on aesthetics rather than the functionality; it's more about making it pretty rather than comfortable and durable. 
"I noticed that lingerie had a lot of frill, and not enough function, and felt that women everywhere were being underserved," she told Mashable.
Over the last 10 months, Knix Wear has tested the bra on 70 different women with varying cup sizes. They put the bras through the usual rigors of a woman's daily life, like yoga, swimming, sleeping and working, to ensure that the bra will last. In a commercial for the product, the company says this bra will cut down your bra count by half. 
The bra and panty technology boom: This year alone, major advancements have been made in the underwear industry to help women navigate periods and boob sweat with more comfort. In June, Mic reported on the company THINX and its revolutionary underwear technology that could "eliminate the need for tampons or pads" completely. The technology used four layers of fabric that, when used together, could remove moisture, resist staining and hold between two and six teaspoons of blood, much like a pad. The announcement sent shockwaves through the female population. According to the company's founder, the underwear has been selling very well.  
"We're now doing weekly orders from the manufacturing facility just because we're trying to keep up with the demand," THINX CEO Miki Agrawal told Mic. "We did more sales in one day than we did in the first four months of 2015," she said, although she declined to provide exact sales numbers.
Earlier this month, innovative bras had a spot on a New York Fashion Week runway. A collaboration between technology company Intel and fashion designer Chromat created a bra that could eliminate boob sweat altogether.
During Chromat's NYFW show, model Alek Wek took the runway to debut a low-cut white sports bra that packed a genius punch: It can "sense changes in the temperature, breathing and perspiration of its wearer" and open tiny vents to prevent sweating, Mic reported. Unlike Knix Wear and THINX, however, this technology is still waiting for Federal Communications Commission approval. 
h/t Mashable