New Snapchat Update 2015: How to Use Snapchat's Newest Selfie Lenses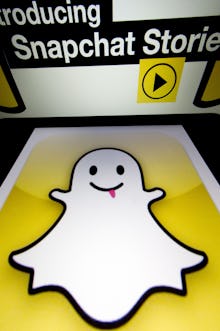 Snapchat has recently upped the selfie game in a big way with its newest lenses feature, which detects the shape of your face and turns it into a kind of human emoji. The update originally rolled out last week, but now there's an updated set of effects as of Tuesday. Unfortunately, the vomiting rainbow no longer exists, which means no more of this:
Snapchat's lenses feature boasts seven animated facial effects, including one that slaps you across the face — just what we all need from time to time. Like a traditional Snapchat selfie, you can send the images to your friends, add them to your story or save them to your phone to look at when you're sad. 
Here's how it's done:
1. Center the Snapchat selfie cam on your face.
2. Tap and hold the center of your face to allow the camera to detect it.
3. Filter choices will pop up.
4. Scroll through them horizontally, tap your filter of choice and follow the instructions. 
Voila!