An HIV-Positive Michigan Woman Took the Police to Court for Discrimination and Won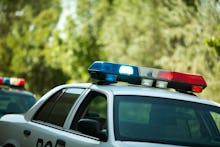 Three years after being ticketed for not disclosing that she has HIV, Shalandra Jones received a $40,000 settlement from the city of Dearborn, Michigan, this week, the Detroit Free Press reports.
Jones' partner Mark Scott was driving the car when Officer David Lacey pulled them over for a broken tail light. Lacey said he smelled marijuana. Jones presented Lacey with the small amount of marijuana she had, as well as her medical marijuana card, which had expired at the time. 
Lacey asked Jones to exit the vehicle. He searched the vehicle and found Jones' HIV medications. When she disclosed that she has HIV, he said that she should disclose her status to law enforcement officials "because I want to make sure I put gloves on and all that stuff." 
How it actually works: HIV is transmitted when a bodily fluid containing the virus — blood, semen, vaginal fluids or breast milk — gets into a person's bloodstream through a blood vessel, an opening in the body or a break in the skin. While casual contact carries no risk of infection, Jones was also undetectable, which means the virus is so depleted in her body that she's virtually eliminated any risk of transmitting the virus to another person by taking her HIV medications.  
Jones was under no legal obligation to reveal her HIV status to a law enforcement official.
The right not to disclose: Sean Strub, executive director of the Sero Project, an organization dedicated to fighting HIV criminalization, told Mic, "I know there are laws in some states that require disclosure to healthcare practitioners, but I know of no laws that require disclosure to police in routine situations, like a traffic stop. Sero advises people living with HIV to never volunteer their HIV status to a police officer or investigator without first consulting an attorney, no matter how well known they are for having HIV. " 
After the incident, a friend of Jones' put her in touch with journalist Todd Heywood, who filed a Freedom of Information Act request with the city to have the dash-cam video released. The video was posted on YouTube prior to Jones' court date for her marijuana possession charge, and Heywood broke Jones' story in the American Independent Institute. The charges were ultimately dropped.  
The video shows Jones and Scott being pulled over, as well as some less-than-flattering statements from Lacey. The officer says he was going to let them go without a citation, but when he learned her HIV status, he said, "That kinda, really aggravated me." 
Earlier in the video, Lacey tells Scott that Jones should disclose her HIV status to inform officers so that they don't get angry. He said, "[W]e get pissed. Bad things happen." 
"I found a needle on a guy once and he didn't tell me — we'll just say he doesn't do that anymore. He's not gonna forget anymore," Lacey said. 
"I don't want to catch nothing. I don't want this shit," Lacey told Scott. "I got a family." 
Scott told the officer about Jones' undetectable status. He said, "She's been undetectable for the last seven years." 
After the incident, Dearborn Police Department Chief Ronald Haddad told the Press & Guide that he was "throughly reviewing the matter," and that the department had "partnered with an HIV health professional and educator who will assist us with providing a greater understanding [of HIV transmission]." 
"I take every comment, complaint and concern of all citizens very seriously," Haddad told the Press & Guide. "We want to be transparent, and I'm confident we can do better."
However, as recently as April 2015, Heywood reported for PrideSource that no such training had taken place. Equality Michigan offered the department a no-cost training and a policy review, but Jones' attorney, Joshua Moore of Detroit Legal Services, told Heywood that Dearborn officials never accepted it.
Moore spoke to Newsweek about the Dearborn Police Department. He said, "I think prior to the incident, there wasn't any training at all [about HIV]. I think they're on notice now as to what they need to do. They very much understand that. They apologized to Ms. Jones."
"We believe this was an isolated incident with a single officer and not reflective of the behavior of our police department," said Mary Laundroche, spokeswoman for the City of Dearborn, according to the Detroit Free Press. "Respect for everyone is emphasized in all police department training."