Tisha Campbell-Martin Writes Her Rapist's Apology On Her Body in New Video "Steel Here"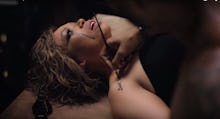 Tisha Campbell-Martin has been keeping a dark secret throughout her years in the entertainment industry. Last August, the singer and actress revealed she had been raped when she was three years-old. 
"I knew as a child that I did nothing wrong and that this wasn't my fault," she said on the Daily Helpline. "I have found forgiveness in the guilt that I might have had." 
Receiving an apology letter from her rapist helped come to terms with the pain. In her most recent music video, she appears with those words painted on her body.
Only the first few lines appear. "Dear Beloved Tina," they read. "This apology has been on my heart and mind for decades. For decades there has been a gnawing pain within me coupled with an unending shame for my past behavior." 
The entire video has symbolic meaning according to Campbell-Martin. The star of Martin and the upcoming Dr. Ken explained her choices in response to a question from a fan on Twitter about what the black dress and words represent.
"By blessing me with the apology letter, he allotted me the ability to be free and to forgive," she explained in another two tweets. By the end of the video, Campbell-Martin has shed the darkness. She wears white and is surrounded by butterflies, seemingly free from her pain.
It's perhaps the most impactful way Campbell-Martin could announce her return to music. She released a solo album back in 1993 and sang while performing in Little Shop of Horrors back in 1986. However, "Steel Here" is by far her most resonant and personal song yet. Watch the full video, a display of resilience and strength, below:
h/t CNN