'Empire' Strikes Back: What to Expect in Season 2 of the Biggest Show on Television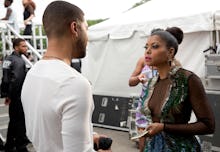 At the end of its first season, Empire left television the undisputed queen of network programming. Will it manage to hold the throne in its sophomore year? If what we know about season two is any indication, there won't even be a contest.
Creator Lee Daniels' series about a hip-hop record label became a phenomenon through a combination of high-wire storytelling, instantly iconic characters and the kind of WTF twists and one-liners designed to make Twitter users digitally scream in unison. Season two is more of the same — and, according to early reviews, taking it to an even higher level.
When we last saw the Lyon clan, patriarch Lucious (Terrence Howard) was in jail on murder charges, while his ex-wife Cookie (Taraji P. Henson) conspired to take the Empire Entertainment label back. What can we expect in season two, then? In short: resolution, new conflicts and one wild ride.
New characters
It would be against Empire's nature not to introduce new elements in season two — the show began with Cookie, clad in fur, getting out of jail and disrupting Lucious' empire. This series thrives on shaking up the status quo. Helping to do that are a roster of new recurring stars, including Magic Mike's Adam Rodriguez as a love interest for Cookie and The Wire's Andre Royo as a lawyer ally for Lucious.
Perhaps most intriguing of the newbies is actress Marisa Tomei, who will appear as a lesbian billionaire venture capitalist who gets involved with the Lyons. It looks like her character, Mimi Whiteman, will play a major part in resolving the tension from the end of the first season. "Lucious Lyon is Empire," she says in one of the trailers. "Without him, the company is nothing."
More music
Continuing the tradition of shows like Nashville and Smash, the original music written for Empire was a treat. As with season one, the songs are written by Timbaland, though R&B singer-songwriter Ne-Yo is joining him this year. Their first two efforts, "Ain't About the Money" and "No Doubt About It," are utter jams.
Like Nashville with producer T-Bone Burnett in its first season, having Timbaland and Ne-Yo making the music is about more than just good tunes. Since Empire is set within the music industry, having songs that could actually work in the modern hip-hop world is vital. They lend credibility to the world of the show. The fact that season one's breakout hit "Drip Drop" is so damn listenable is just a bonus.
A starry guest lineup
How many guest stars is too many guest stars? For Empire, the answer is "Why on earth would you ask such a stupid question? We have Oprah Winfrey and Mariah Carey!" The list of high-profile actors and singers who will appear on the show is bonkers. In addition to Winfrey, Carey and Tomei, there's Kelly Rowland, Chris Rock, Alicia Keys, Pitbull, Common and Lenny Kravitz.
The star-studded guests are not a stunt when the entire show is about how well you can stunt.
Normally, such an influx of guests would be scary. Yet a star-studded slew of featured performances is just part of Empire's DNA. Season one featured guests like Patti LaBelle, Estelle, Jennifer Hudson, Rita Ora, Raven and Cuba Gooding Jr. It's not a stunt when the entire show is about how well you can stunt.
Cookie galore
Even if everything about season two of Empire fell apart, the show would still have Cookie. There's no way to properly quantify what Henson does for this show. In just a dozen episodes of season one, she managed to make her character big without being overdrawn, campy without being a caricature. Her performance was great before the show could even catch up. The rest of the ensemble, the direction, the writing — all of it stepped up its game to match what Henson was throwing down.
How will Henson improve on her Emmy-nominated performance this year? By doubling down on what made Cookie iconic in season one, of course. In Wednesday night's premiere, she has howlers ("Why are you over there crying like Tammy Faye Baker?" she asks her weeping friend) and increasingly ridiculous costumes. Thank goodness Henson and Daniels are going to keep pushing this character to her limits. She's emblematic of everything Empire does right.