Pope Francis White House Visit 2015: Full Transcript and Remarks on Climate Change, Peace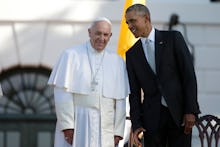 Pope Francis addressed a crowd of about 11,000 on the south lawn of the White House on Wednesday morning to kick off his historic six-day first visit to the United States. The pope, who has stirred controversy in the past for his progressive stances on certain hot-button political topics, discussed issues like climate change and inequality. 
During his remarks in front of the White House, the pope called climate change "a problem which can no longer be left to a future generation" and commended the Obama administration for its actions to curb global warming. 
"Mr. President, I find it encouraging that you are proposing an initiative for reducing air pollution," Francis said. "When it comes to the care of our 'common home,' we are living at a critical moment of history."
The pope went on to talk about pursuing peace and serving the underprivileged. "I would like all men and women of good will in this great nation to support the efforts of the international community to protect the vulnerable in our world and to stimulate integral and inclusive models of development, so that our brothers and sisters everywhere may know the blessings of peace and prosperity which God wills for all his children," the pope said. 
The full transcript of the pope's White House welcoming speech, released by the Vatican, is available here. 
Correction: Sept. 23, 2015