Pope Francis Will Skip Lawmaker Lunch to Dine With 300 Homeless People in Washington DC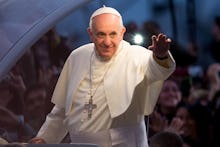 Thursday, during his first official visit to the United States, Pope Francis plans to have lunch with homeless Washington residents instead of lawmakers after he addresses Congress, USA Today reported. 
The leader of the 1.2 billion-strong Roman Catholic church plans to dine with around 300 of the capital's less fortunate in a makeshift tent by the city's St. Patrick's Catholic church, the Independent reported. Francis declined the opportunity to lunch with capitol lawmakers during the same time.
The pontiff touched down Tuesday to a raucous welcome at Joint Base Andrews, where he was met by President Barack Obama, Vice President Joe Biden and their families. 
"We expect [the pope] to be like a maitre d' at a restaurant," Erik Salmi, communications director for the Washington branch of Catholic Charities, told the Washington City Paper. "There's not a lot that's scripted; rather, we want him to have as much time to greet people [and] spend time with them as possible. He's big with people on the margins of society, those that tend to get overlooked."
The move is highly symbolic and in keeping with many of Francis' previous actions championing the poor and neglected. For his 78th birthday last year, the pope distributed 400 sleeping bags to the homeless of Rome. He has also sponsored charity auctions for the homeless and built them showers in St. Peter's Square. Unlike his predecessor Benedict XVI, who rarely spoke of the poor and lived in high style at the Vatican's Apostolic Palace, Francis opted for a smaller place outside the complex.
Earlier this year, he washed the feet of 12 prisoners and baby from Rome's main prison. 
Francis' commitment has been so unwavering that some critics have branded him a Communist. "Land, housing and work are increasingly unavailable to the majority of the world's population," Francis was quoted as saying in the Independent Journal Review. "If I talk about this, some will think that the Pope is a communist."
Francis will stay in the U.S. for a total of six days. He is the fourth pope to visit the country.