Pope Francis Mass Live Stream 2015: Here's How to Watch Papal Canonization Online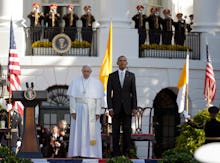 Pope Francis touched down in Washington, D.C., on Tuesday and has already been making strides in the political world. The Papal three-city tour is the pope's first visit to the United States. His first major event will be a 4:15 p.m. EDT Mass of Canonization of Junipero Serra at the Basilica of the National Shrine of the Immaculate Conception on Wednesday.
Francis' packed Wednesday schedule kicked off with a welcoming ceremony held at the White House with President Barack Obama at 9:15 a.m. EDT. The Papal Parade began shortly after at 11:00 a.m. at the nearby National Mall. The pope then held a midday prayer at the downtown St. Mathews Cathedral.
Francis will hold a highly anticipated Wednesday Mass to canonize a Spanish-American missionary, USA Today reports. Catholic University, which has been preparing for the pope's Mass, will live-stream the canonization, which the pope will deliver in Spanish, via the university's website. Watch the Mass live stream here, and check out the rest of the Papal visit itinerary and other breaking news here.
The Pope's visit can also be watched online via Time Warner Cable's special 24-hour streaming channel dedicated to the historic trip. The channel will feature complete coverage of the pope's major events, including all of his Masses, as well as analysis and commentary from experts. A number of other options for watching full coverage of the Papal visit is available to Time Warner Cable customers as well, including local on-demand channels and its digital news app.