'Serial' Season 2 Podcast: Plot and Release Date Info for New Investigative Series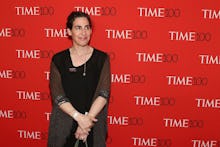 Serial, the runaway hit podcast that debuted in October and converted millions of listeners into podcast disciples and Adnan Syed devotees, is gearing up for its second season. Serial's producers have yet to confirm an exact release date, though the series' homepage vaguely indicates a fall release. 
Serial is a spinoff of WBEZ's This American Life, and as diehard fans wait to hit play on season two, rumors are percolating about producer Sarah Koenig's next subject. 
While Serial's producers are working hard to keep season two details on lockdown — after all, suspense is what they do best — sources told Maxim that one potential storyline would follow the case of United States Army Sgt. Bowe Bergdahl. Between June 2009 and May 2014, a guerrilla insurgent group connected to the Taliban held Bergdahl captive in Afghanistan. The group, called the Haqqani Network, detained Bergdahl until the release of five Guantanamo Bay detainees, Entertainment Weekly reports.
The way Berghdahl tells it, he was abducted after leaving his base outpost. However, Bergdahl's peers claim his exit was dishonorable. In March, Bergdahl was charged with desertion and misbehavior before the enemy.
While Serial's producers might still be playing the field for a subject, clues suggest Bergdahl is a contender. According to Maxim, Koenig and another unnamed Serial producer were spotted last week in Texas at a preliminary hearing for Bergdahl's case. And two former anonymous members of Bergdahl's Afghanistan unit confirmed they'd been interviewed but Serial producers. 
And according to Serial's Twitter, Koenig did take a trip to Texas in July. 
When Entertainment Weekly tapped Serial producers for confirmation on the upcoming plot line, a spokesperson said, "The Serial team hasn't confirmed their topic for season two yet. Over the past few months they've been reporting on a variety of stories for both seasons two and three of Serial, along with other podcast projects."
A third season is also in the cards, according to an email obtained by Heavy. "We are hard at work reporting not one, but two distinct new stories," Koenig wrote to Serial newsletter subscribers. "This means we're planning on a third season of Serial." 
According to Heavy, fans can expect season three to surface sometime in spring 2016. 
Update: the Hollywood Reporter confirms that Bergdahl's case will be the subject of season two.
Update: Nov. 2, 2015: Pandora has announced that Season 2 will be streamed exclusively on Pandora, according to The Associated Press.
Update: Dec. 10 2015: The first episode of the second season of Serial was released on Dec. 10.