Man Who Helped Kill Thousands of Native Americans to Be Made a Saint by Pope Francis Today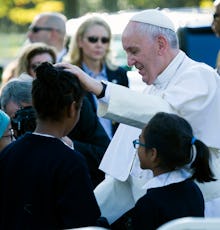 Pope Francis landed in Washington, D.C., Tuesday to commence a six-day tour of the United States. Junipero Serra landed in San Diego, California in 1769 on a mission from Spain, to commence construction on the first of 21 Catholic missions in the state. 
Through his directive, the Spaniards built the missions throughout California, plundering the land of its indigenous people and killing thousands of them. By 1900, 131 years after Serra's arrival, almost 95% of California's indigenous population had been decimated — down to 16,000 people from over 300,000. On Wednesday, Pope Francis will make Junipero Serra a saint. Naturally, some indigenous Californians are not happy about it.
A campaign spearheaded by the Amah Mutsun tribal band of Costanoan/Ohlone Indians against the canonization of Serra comes to a head Wednesday, when Pope Francis will bestow sainthood on Serra during an official ceremony at a Washington basilica.
In one of his many letters addressed to the Pope, Valentin Lopez, Chairman on the Amah Mutsun, writes:
"Serra was the architect of the mission system; he developed the brutal, inhumane policies that had no regard for our ancestors ... This terror included the violent capture, enslavement, torture and rape of natives, as well as an unhealthy diet and squalid living quarters that resulted in the death of an estimated 150,000 California Indians in the missions. This number includes thousands of women and children who died from syphilis and gonorrhea as a result of their sexual abuse. How the Catholic Church and you, Holy Father, can consider Serra's actions to be holy, sacred or saintly is incomprehensible to our tribe."
A Change.org petition urging California Gov. Jerry Brown to publicly oppose Serra's canonization has also gone unheeded.
"The Catholic church has completely ignored the humanity of California Indians," Lopez told Mic Wednesday morning. "Indigenous people are not going to stand for it."
Serra's establishment of California's often brutal Catholic mission system is taught in the fourth grade at state schools.
"The historical record of this era remains incomplete due to the relative absence of native testimony," California's fourth-grade Common Core standards read, "but it is clear that while missionaries brought agriculture, the Spanish language and culture and Christianity to the native population, American Indians suffered in many California missions."
Understatement of the year: Pope Francis has been widely hailed as one of the more progressive popes due to his outspoken views on wealth inequality, climate change, sexual abuse committed by Catholic priests and his endorsement of the state of Palestine. He also publicly apologized for the Church's exploitation of indigenous people in Latin America while in Santa Cruz, Bolivia, in July.
Yet today, during his first visit to a nation with one of the most brutal histories of anti-indigenous violence in the world, he will canonize a key architect of that same exploitation, under the watch of the President of the United States.
"It is completely hypocritical of Pope Francis to apologize to indigenous people of the Americas but move forward with canonizing Junipero Serra," Lopez told Mic. "We're going to continue our call to oppose it and to push the Church to recognize that we had traditions and humanity before, that we were not subhuman before Christianity arrived."
h/t Huffington Post Latino Voices