These Are the Kind of Women Who Should Really Be Honored on a Calendar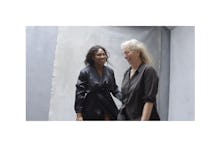 The annual Pirelli Calendar, the Italian tire brand's high-fashion publication, is most closely associated with exotic locales, scantily clad supermodels and near-perfect bodies. This year is different.
For 2016, the calendar has switched its suggestive tone (last year's theme was literally "fetish") to focus on female achievement. This year, models include accomplished women of all backgrounds, races and ages, like tennis superstar Serena Williams, filmmaker Ava DuVernay, singer-songwriter Patti Smith, Iranian visual artist Shirin Neshat and artist Yoko Ono, among many other women who are shaping the world today. 
To top it all off, Annie Leibovitz is photographing all 13 subjects. After 51 years of reliably risque spreads, each woman in 2016's edition is clothed. 
"This calendar is so completely different. ... I started to think about the roles that women play, women who have achieved something," Leibovitz said in a statement. "I wanted to make a classic set of portraits. I thought that the women should look strong but natural, and I decided to keep it a very simple exercise of shooting in the studio."
The calendar's unlikely subjects were shocked by the invitation, to say the least. 
"I was very surprised that I was asked, and I was very proud that I was asked, and I think that Annie is doing something unique and different, and Pirelli is making a bold move," Patti Smith told Vogue. 
They found Pirelli's move to be admirable, and something they undoubtedly wanted to join. 
"I look at Annie's project not as a protest, but as a celebration," Smith added. 
"I feel completely unworthy ... I'm honored," 19-year-old media mogul Tavi Gevinson told Vogue. "I think it's amazing to be a part of this group of women who are being celebrated for so many different things in something that's traditionally celebrating one thing — which is also great!"
The Pirelli calendar traditionally celebrates unattainable, model-esque superbeauty. Earlier this year, the Guardian even derided the publication for being a "soft-porn calendar promoting tires." Almost every year since the calendar's launch in 1964, the models (who have been notably tall, thin and overwhelmingly white) have posed nearly naked or completely nude.
In last year's calendar, it was groundbreaking to find plus-size model Candice Huffine in the lineup — she was only the second plus-size model to pose. Now we're talking about Smith, 68, and Serena Williams, who has received unwarranted flack about her strong, muscular, athletic bod, gracing the pages. Williams, it should be noted, will be the first-ever black female athlete to be included in the Pirelli Calendar. 
In fact, this year there is just one professional model: 33-year-old Natalia Vodianova, who is known for her extensive philanthropy in Russia.
This is all more than a slight departure for a brand like Pirelli, and it's certainly a welcome one.
Behind-the-scenes images Pirelli released Wednesday reveal that other models this year will include author and public speaker extraordinaire Fran Lebowitz, comedian Amy Schumer (fresh off her Emmy win), arts patron Agnes Gund, film producer Kathleen Kennedy (the woman responsible for E.T. the Extra Terrestrial and Jurassic Park), businesswoman Mellody Hobson and the so-called "Chinese Angelina Jolie" Yao Chen. 
Why these women? What makes this diverse set of women particularly extraordinary is their achievements and their influence. For example, Mellody Hobson rose from being an intern in the investment world to now being the Chairman of the Board of Directors of DreamWorks Animation. Serena Williams has rebranded tennis and become an empire unto herself. All of these women have created their own brands and their own empires. They are women to aspire to for reasons other than beauty and sex appeal. 
The calendar will be a celebration of the power of women, prompting a conversation about just what we can do. (The answer: anything.)
For fans of the calendar (and what it now stands for), we have some bad news for you: It's unavailable for purchase. According to the Guardian, the only recipients of the calendar are the Italian tire brand's "secret list of high-rollers and international public figures." 
However, more images will be available for view with the rollout of a revamped Pirelli official website Oct. 20 before the rest are revealed in London Nov. 30. Until then, you'll just have to do with these amazing behind-the-scenes shots.
h/t Vogue