Netflix Data Reveals the Effect of Binge-Watching Shows and When Audiences Get Hooked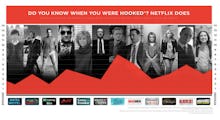 In the world of Netflix, first impressions aren't everything. The streaming service revealed new data Wednesday showing the majority of viewers get hooked on shows at different times throughout their first seasons, and it all comes down to binge-watching.
The company reviewed the analytics of 25 of their most popular shows, including self-produced programs like Orange Is the New Black and House of Cards, specifically focusing on the exact episode when at least 70% of audiences continued watching for the rest of the season. 
While some hit shows like Sons of Anarchy, Scandal and Bates Motel managed to reel viewers in for the long run by their second episodes, others took quite a bit of time to attract the 70% of their base to stick around for the grand finale. How I Met Your Mother and Arrow, both wildly successful network TV shows, were only able to maintain the majority of their streaming audiences by their eighth episodes. 
Here are the exact episodes that turned at least 70% of viewers into fans, according to the Verge:
Arrow — Episode 8
Bates Motel — Episode 2
Better Call Saul — Episode 4
Bloodline — Episode 4
BoJack Horseman — Episode 5
Breaking Bad — Episode 2
Dexter — Episode 3
Gossip Girl — Episode 3
Grace & Frankie — Episode 4
House of Cards — Episode 3
How I Met Your Mother — Episode 8
Mad Men — Episode 6
Marco Polo — Episode 3
Marvel's Daredevil — Episode 5
Once Upon a Time — Episode 6
Orange is the New Black — Episode 3
Pretty Little Liars — Episode 4
Scandal — Episode 2
Sense8 — Episode 3
Sons of Anarchy — Episode 2
Suits — Episode 2
The Blacklist — Episode 6
The Killing — Episode 2
The Walking Dead — Episode 2
Unbreakable Kimmy Schmidt — Episode 4
The episode number that got viewers hooked in each show varied, proving that the first-episode pilot system many broadcast television networks employ doesn't hold up for a series premiering on Netflix. 
"Given the precious nature of primetime slots on traditional TV, a series pilot is arguably the most important point in the life of the show," Netflix chief content officer Ted Sarandos said in a press release published Wednesday. "In our research of more than 20 shows across 16 markets, we found that no one was ever hooked on the pilot. This gives us confidence that giving our members all episodes at once is more aligned with how fans are made."
Perhaps Netflix originals like House of Cards, which managed to keep the breadth of its audience by the third episode, can attribute their success to a deeper understanding of online audiences. "There's a unique sense of intimacy with creating a show for Netflix," Marta Kauffman, TV producer and creator of the Netflix hit series Grace & Frankie, says in the press release. "Knowing you have an audience's undivided attention and that in essence, they are letting these characters in their home, we unfolded storylines at a more natural pace."
So, next time you're sitting down to try the first 10 minutes of a new series, perhaps you should consider sticking around a bit longer. The difference could turn you into a superfan.