Chvrches New Album 'Every Open Eye' 2015: Track Listing, Streaming Options and Best Lyrics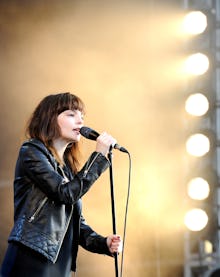 Scottish synth-pop band Chvrches is gearing up to release its sophomore studio album on Friday. In the lead up to its release, the three-piece outfit out of Glasgow is streaming Every Open Eye via NPR. 
Signed to Glassnote Records, the band is multi-instrumentalists Iain Cook and Martin Doherty with vocalist Lauren Mayberry. Chvrches, whose name is a permanent tongue twister (it's pronounced "churches," for the record), has been steadily building a fan base since emerging some two years ago. 
Every Open Eye follows Chvrches' 2013 debut album, The Bones of What You Believe. At the time, Pitchfork awarded the record an impressive 8.5 out of 10 on its rating system and voted the album best new music.
The album takes its name from a lyric in "Clearest Blue," a track that appears mid-way through the record. "Every open eye," croons Mayberry on the electro-hued cut. "Holding on tightly to the sides/ Never quite learning why/ You'll meet me/ You'll meet me/ You'll meet me halfway."
The record's single, "Leave a Trace," surfaced in July. A second single, "Never Ending Circles," followed in August.
"It's like our fight song," Mayberry said of the record's first single in an interview with New Musical Express. 
"An avalanche of sound," she continued. "Both lyrically and musically, it's one of the most direct things we've ever done." 
"But the album's definitely still full of melancholy," added Doherty. "There's something about doing anything in Glasgow that drives you back to a kind of melancholy." 
In truth, the single recalls the best of Chvrches' early work, namely the effervescent opening cut to The Bones of What You Believe, "The Mother We Share."
Source: Soundcloud
Check out the album's track list below and head to the band's Facebook page for upcoming tour dates.
Every Open Eye:
1. Never Ending Circles
2. Leave A Trace
3. Keep You On My Side
4. Make Them Gold
5. Clearest Blue
6. High Enough To Carry You Over
7. Empty Threat
8. Down Side Of Me
9. Playing Dead
10. Bury It
11. Afterglow