Pope Francis Congress Visit Live Stream 2015: Watch Pope Speak Before Joint Session Online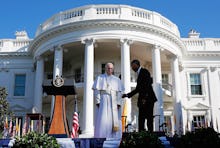 Pope Francis kicked off his United States papal visit with a stop at the White House on Wednesday, where he was greeted with a welcoming ceremony and parade along the National Mall. As the pope gears up for a jam-packed schedule Thursday, the second day of his U.S. trip, Congress is also preparing for a highly anticipated joint session where Francis is expected to discuss political issues before Republicans and Democrats alike, making him the first pope in history to address U.S. leaders directly from the U.S. Capitol.
The pope's speech before Congress will be available for live streaming via the official website of House Speaker John Boehner (R-Ohio). Check out Pope Francis' speech to Congress at 9:20 a.m. here. 
The pope's historic joint session visit with Congress will be a closely watched moment during his visit, as the religious leader has been known to veer off-script in recent speeches during his visit to Cuba. Just a few days ago, Francis called for political and religious freedom in the nation's capitol of Havana, urging the often closed-off society to become more transparent and open to outsiders, CBS News reports. 
The Catholic leader's last stop in D.C., at Saint Patrick's Catholic Church, will be shortly after addressing Congress. He'll then jet to New York City.