10 Queer Films That Will Teach You More LGBT History Than 'Stonewall'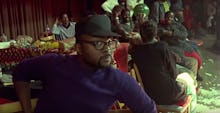 Though the first big-budget film about the 1969 Stonewall riots has finally reached theaters, it's becoming increasingly clear that Stonewall does no justice to Stonewall. No one's claiming you can get all of LGBT history from one film, of course, but if you did want a crash course in queer history on film — whether through fictional narrative, documentary form or mixed-genre — then there are a few films that can jumpstart your education. 
1. The Celluloid Closet (1995)
If you want a movie to teach you about LGBT history, where better to start than a movie that teaches you about the history of LGBT people in film? Based on the book by Vito Russo and narrated by Grace & Frankie star Lily Tomlin, Closet came out a few years after queer activists were sick of being scapegoated as killers in films like Silence of the Lambs or Kennedy. 
Closet laid bare a long history of antigay coded language and images in film, leading back to the earliest films in the '20s, when the stereotype of the sissy pervaded silent cinema. 
2. The Times of Harvey Milk (1984) 
While one might be more familiar with Gus Van Sant's Milk starring Sean Penn, the original documentary about Harvey Milk, one of the first openly gay elected officials in America, is also a cultural touchstone, preserved by the National Film Registry as an American work of art. The film documents Milk's political ascent in 1970s San Francisco from neighborhood activist to San Francisco City Council. It features many of the people central to Milk's story and a few familiar faces, including current Sen. Dianne Feinstein (D-Calif.), who succeeded then-San Francisco Mayor George Moscone, who was assassinated alongside Harvey Milk in 1978 by Dan White, a scorned fellow city council member. 
In a review, noted film critic B. Ruby Rich wrote, "The Times of Harvey Milk has become a film that defies any expiration date."
3. Paris Is Burning (1990) 
Depicting the underground drag-ball culture of New York City in the late 1980s, Jennie Livingston's documentary, which she began shooting while in New York City for a summer course, has since influenced the queer community and academia in ways she may never have anticipated. Livingston spent seven years attending the balls and interviewing many prominent members of the houses, including Pepper LaBeija. The film details not only the elaborate house balls but the houses themselves as alternative families and is full of deft observations about race, sexuality, gender, poverty and the AIDS epidemic. 
Much of the slang we use today comes from drag culture, and this film shows drag queens using these terms as industry jargon almost two decades before mainstream culture began to appropriate them. 
Film critic Emanuel Levy wrote that the film shows how black cultural expression is co-opted and diluted for mass consumption and that the movie, which was released out after Madonna's iconic "Vogue" video but was produced before her video's release, shows how much these queer people of color were exploited. "It also reiterated the failure of mainstream culture to even acknowledge the creative black genius it eagerly exploited," he wrote.
The shade of it all. 
4. Philadelphia (1993) 
Inspired by the real-life case of Philadelphia lawyer Clarence B. Cain, Philadelphia is the story of Andrew Beckett, who is closeted about both his sexuality and his HIV-positive status. When Beckett, played by Tom Hanks, feels he is wrongly fired from his firm because his HIV-positive status is revealed to his bosses, he gets a low-rent lawyer (Denzel Washington) to represent him in court. 
The movie was recognized as one of the first big-budget films to talk about HIV or AIDS, and Hanks' performance earned him the 1994 Academy Award for best actor. 
5. My Beautiful Laundrette (1985) 
Directed by Stephen Frears, who would go on to direct The Queen and Philomena, My Beautiful Laundrette is the story of Omar, a young Pakistani Londoner, who reunites with a former friend, Johnny, played by Daniel Day-Lewis. The two end up operating a laundrette owned by Omar's uncle Peter and then become a couple. The story deals with race relations and sexuality in Margaret Thatcher-era London. 
It includes one of the sweetest moments in film history, when Johnny shares a secret, tender moment with Omar, while pretending to tell him off in front of his punk, fascist friends. 
6. Boys Don't Cry (1999) 
Boys Don't Cry is the real-life story of Brandon Teena, a transgender man who was beaten, raped and murdered when his gender status was discovered by his attackers. The film addresses myriad issues, including gender identity, lesbianism, class, rural LGBT life and violence against queer people. Hilary Swank would go on to win the Academy Award for best actress for the role.
Director Kimberly Peirce spoke extensively about the many roadblocks Boys Don't Cry faced after it was filmed in the documentary This Film Is Not Yet Rated , which explored the often-homophobic tendencies of the Motion Picture Association of America. The board rated Boys Don't Cry as NC-17 because it featured ejaculate, an anal rape scene and because "Lana's orgasm [was] too long," which was deemed "offensive."  
7. How to Survive a Plague (2012) 
How to Survive a Plague is a documentary about the incredibly visible activist group the AIDS Coalition to Unleash Power. The film depicts ACT UP's efforts to force the U.S. government to address the AIDS epidemic and to fund research and medications for those dying of AIDS. Ultimately, it's about queer people fighting for the right to live — and to do so with dignity. 
The film was nominated for an Academy Award for best documentary feature and was part of a resurgence of AIDS-related films in recent years, including Dallas Buyers Club and Straight Outta Compton.
8. Tongues Untied (1989)
Tongues Untied is a semi-documentary, blending real-life accounts and interviews with fictional depictions of black gay men, directed by black, queer poet Marlon Riggs. Riggs said he wanted the film to "shatter the nation's brutalizing silence on matters of sexual and racial difference." The movie not only mixes genres, but formats; poetry, song and dance are all a part of the storytelling process. 
9. But I'm a Cheerleader (1999) 
This may not teach you as much about queer history overall, but it is one of the few film depictions of so-called conversion therapy, albeit a humorous one. The story follows Megan, played by Natasha Lyonne, as she's thrown into the heterosexual world of True Directions, where she must learn the "root" of her abnormal behavior, then address it through performing super-feminine tasks. True Directions' plan goes awry when Megan falls in love with one of her bunkmates.
While the film is a humorous take on a serious subject, it's also a deft exploration of gender roles and how they have forced people of all gender identities and sexual orientations to hide who they really are. 
10. Shortbus (2006) 
Yes, sex is a part of queer history, too. And if you want to know what sex means to queer people, pick up Shortbus. Directed by John Cameron Mitchell, creator of both the film and musical Hedwig and the Angry Inch, Shortbus tells the story of Sofia Lin, a sex therapist who is actually in need of a sexual awakening herself. She is told to attend a monthly social and sexual salon called "Shortbus," where people can express themselves sexually. 
The film is based on Radical Faerie gatherings that Mitchell attended and dance parties he used to host. The film was one of the first mainstream releases to feature real penetrative sex and ejaculation. For Mitchell, sex was part of the storyline, and not simply pornographic. 
"When you can show more realistic sex, the sex itself can be a metaphor for other parts of the character's lives. The way people express themselves sexually can tell you a lot about who they are," he wrote. "Some people ask me, 'Couldn't you have told the same story without the explicitness?' They don't ask whether I could've done Hedwig without the songs. Why not be allowed to use every paint in the paintbox?" 
Correction: Sept. 28, 2015